The Ministry of Foreign Affairs annual virtual forum for Estonians worldwide tomorrow
Text Mark Taylor
Photo The Ministry of Foreign Affairs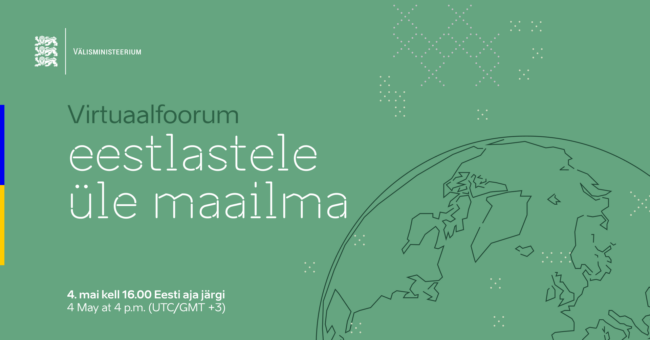 The Foreign Ministry's virtual forum for Estonians worldwide will be held tomorrow (May 4) at 4 pm Estonian time. The focus of this year's forum is on preserving the Estonian language. One viewer selected at random will win the prize of a return ticket to Estonia.
This year, the virtual forum which is in its 5th year, explores how to preserve the Estonian language in a multilingual environment. The speakers at the event include Foreign Minister Margus Tsahkna, linguist and journalist Martin Ehala, writer Valdur Mikita, and Canadian-born Estonian Riina Kindlam among others. Music at the event will be provided bt Valter Soosalu.
You can attend the virtual forum from anywhere in the world in the Worksup environment, where it will be possible to ask questions to the speakers. The forum will also be simultaneously translated into both English and Russian.
You can learn more about the full program and participate in the virtual forum here. It will also be possible to watch live streams of the event on the Estonian World, Global Estonian and ERR websites.
To learn more about this and similar topicsERR Estonia Estonian Language Estonians Foreign Ministry Forum Virtual Forum