SUMMER PATIO GUIDE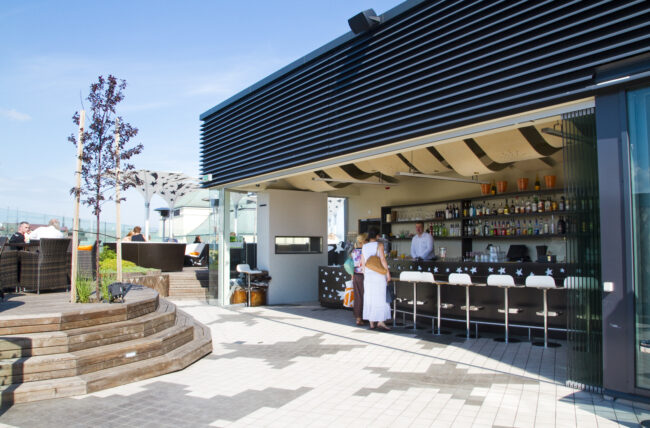 Hotel Telegraaf: Luscher & Matiesen: Leib Resto & Aed:Pierre Chocolaterie:Kohvik Komeet:
The Baltic Guide has compiled a list of Tallinn's great patios and terraces that take in the best view or are a little off the beaten track, but most importantly, aren't found on the Town Hall Square. Some you might not know about, and some, if don't know about them yet, what are you waiting for, there's a drink and a good meal waiting for you at the end.
FOR SOMETHING A BIT FANCY:
Hotel Telegraaf: This summer terrace is perhaps one of the most tranquil in the Old Town. It's located less than a minute's walk from the Town Hall Square along Apteegi, in a secluded courtyard. Enjoy excellent food, excellent service, and relaxing live music. Vene 9. Old Town
FOR SOMETHING A LITTLE DIFFERENT:
Luscher & Matiesen: This is an old wine company originally founded in 1910. In the summer they open a terrace almost overlooking Tallinn in the upper part of the Old Town. They serve a French white and a Spanish Red under their label, as well as small snack menu. L & M have recently added a dry sparkling and a rosé to their list. Follow their updates on Facebook to find out about upcoming live music events. Cash only. Kohtu 12. Tallinn .
Leib Resto & Aed:
Good food, good wine, secluded lush green courtyard…what more could you ask for. Leib Resto ja Aed is the dream of sommelier Kristjan Peäske and chef Janno Lepik, two friends turned restaurateurs. Their love for good food and good wine can be seen in the restaurant's changing menu, and the elegant, yet unpretentious wine list. Located in the Old Scottish Club in Tallinn's Old Town, their secluded courtyard is perhaps one of the most beautiful places to enjoy a meal outside in Tallinn. The menu at Leib changes seasonally. In summer, the kitchen moves outside to an open grill. Bookings are a must. Uus 31. Old Town
Chakra: If you are craving some spice visit Chakra for some wonderful Indian food. The courtyard patio is in the back of the restaurant and is situated off a quiet Old Town street, making this a great place to relax with friends. Bremeni käik 1. Old Town G3.
Pierre Chocolaterie: While you may not fancy a hot chocolate in June, this quirky little café off of Vene is a lovely place to come for coffee and a pastry in the morning. Enjoy house-made truffles and other sweet treats in this quiet and cosy courtyard patio. Vene 6, Tallinn Old Town
FOR SOMETHING WITH A VIEW:
Lounge 24: On the roof of the Radisson Blu Hotel Tallinn, is the highest open-air patio you are going to find in Tallinn. Enjoy good food, great cocktails, and an even better view. The 360-degree view lets you look over Tallinn's Old Town, the city centre, and out over the water. Ravala Puiestee 3. Tallinn
Kohvik Komeet: The cakes at this café are divine, as are the cocktails. The quirky round booths are the perfect place to enjoy a warm summer evening. While not quite as high up as Lounge 24, you still get a great view of the Old Town. Estonia Puiestee 9, Solaris Centre 4th floor. Tallinn
To learn more about this and similar topics