Summer and early autumn events in Estonia
Text Mark Taylor
Photos Henri-Kristian Kirsip / Viljandi Folk, Eiliki Pukk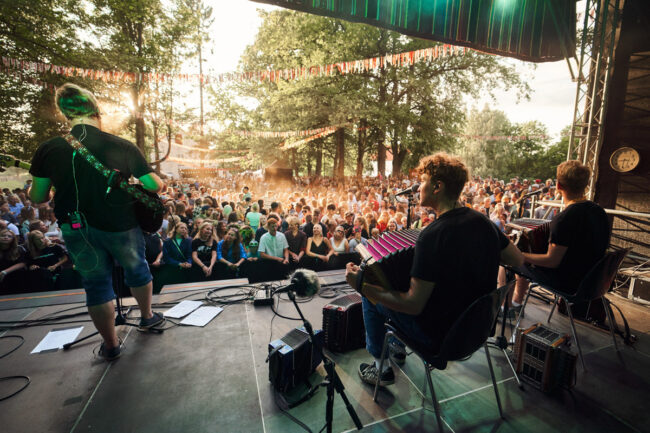 Viljandi Folk is the biggest and probably most well-known of Estonia's summer folk festivals.
Here is a short rundown of some of the biggest events happening in Estonia in the next couple of months:
20.–24.7. Saaremaa Ooperipäevad
This year's main performer at the ever-popular Saaremaa Opera days is the Silesian Opera in Bytom, from Poland. You will be able to see performances from Charles Gounod's "Romeo and Juliet", and Giuseppe Verdi's "Traviata", to name but two. However, it is the setting in the beautiful Kuressaare Castle that really takes this festival to the next level.
21.–24.7. Hiiu Folk
Hiiu Folk brings traditional folk music to the island of Hiiumaa. As well as music from performers such as Curly Strings, Duo Ruut and Mari Kalkun, there will also be nature trips, workshops, a film program and many activities for the kids. It has previously been awarded as the most family-friendly festival in Estonia.
23.7. Haapsalu Yoga festival
The Haapsalu Yoga Festival features some of the best yoga teachers and instructors from Estonia and abroad. The opportunity to try about ten different yoga styles, from classical to modern, listen to lectures and participate in workshops make it a must-visit for lovers of yoga. Morning and evening chanting of mantras add further to the mood.
28.–31.7. Viljandi Folk
Is the biggest and probably most well-known of Estonia's summer folk festivals. The program is awash with both local acts such as Puulup and Mari Jürjens, as well as artists from as far afield as Brazil and South Korea. Viljandi Folk festival takes place in the city of Viljandi in central Estonia, about 1.5 hours by car from Tallinn.
29.–31.7. Võsu Rannafestival
Võsu Rannafestival, which is the biggest beach festival in Estonia, turns 10 years old this summer. The headline act of the festival will be Swedish euro-dance legend Dr. Alban, most famous for his 1992 hit "It's my Life". Other acts include 5Miinust, 2 Quick Start and Tanel Padar.
30.7. Pärnu Maitsete Uulits – Street Food Festival
For one day in July, Supeluse tänav in Estonia's summer capital of Parnu becomes a paradise for food lovers. The street will be packed with food trucks offering all manner of different fresh, modern, exciting, healthy, natural and tasty foods.
2.8. Toto (in Rakvere)
Iconic American band Toto bring their Dogz of Oz tour to Rakvere Vallimägi on August 2. The band, which was formed in Los Angeles all the way back in 1977, have recorded 14 studio albums with numerous Billboard 100 hits such as "Africa", "Rosanna", and "Hold the Line".
5.–7.8.Festival Augustibluus
Augustibluus is the largest Blues festival in the whole of the Baltic region. The festival, which takes place in the grounds of Haapsalu Episcopal Castle, began back in 1994. This year, headline acts include Ariel Posen, Tad Robinson, as well as local acts such as Ziggy Wild and Karl-Erik Taukar.
6.8. Ironman Tallinn
The world-famous Iron Man triathlon returns to Tallinn this August. The competition takes place on land, at sea and on the back of a racing bike along the streets, coasts and park areas of Tallinn.
6.–14.8. Birgitta Festival
Birgitta Festival takes place in the beautiful surroundings of the ruins of the old Pirita convent. During the week of the festival, a number of operas will take place, including the World Premiere of "Lalli, or there is a man in the middle of the sea", which is based on Eino Leino's play, Lalli.
12.–14.8. Viru Folk
Takes place in the famous coastal village of Käsmu, in Harjumaa, about 80 km east of Tallinn. This year, the festival, which is celebrating its 15th edition, will see performances from Estonian, Latvian, Swedish and Finnish musicians.
21.–28.8. Tallinn Chamber Music Festival
The concerts of the festival can be enjoyed in numerous churches and music venues in Tallinn's old town. Well-known Estonian classical music performers and foreign musical guests will enchant listeners.
27.8. Kihnu Männäkäba Marathon
The experience marathon through the beautiful island of Kihnu is more than just a marathon. It is a shared, boisterous celebration of the entire island. They say that what happens in Kihnu, stays in Kihnu.
9.–11.9. Station Narva Music and City Festival
Station Narva is one of the youngest music festivals in Estonia. The event offers new music, business networking, city attractions and the latest urban innovations.

22-24.9. Öövalgel Light Festival, Pärnu
On the weekend of September 22-24, Pärnu will be bathed in light. The festival, which is the biggest of the year in the city, will see stories told through light and video projections for three consecutive nights. This year, performances will take place in the downtown and beach areas of the city.
To learn more about this and similar topicsblues Concert event festival in Estonia folk Folk Music music summer event