Open-air ice rinks in Tallinn
Text Mark Taylor
Photo Andrei Chertkov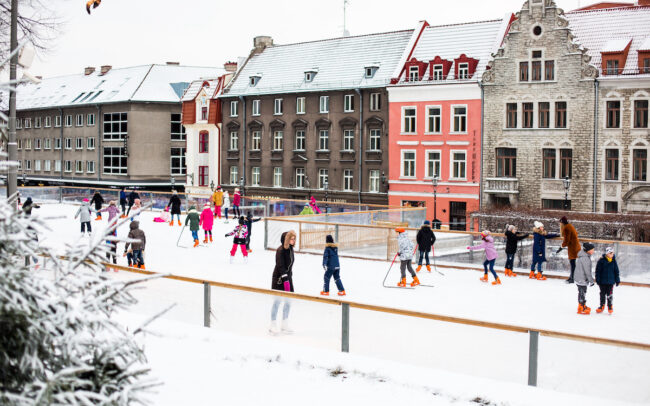 Yesterday, November 11, two open-air ice rinks opened in Tallinn (in Mustamäe and Lasnamäe). On November 18, rinks will also open in Tallinn's Old Town and Nõmme. They will remain open until mid-March.
Last winter, more than 120,000 visits were made to Tallinn's four open-air rinks. In light of their popularity, all four (Old Town, Nõmme, Mustamäe and Lasnamäe) will return again this year.
In fact, the first two open-air ice rinks opened on November 11. These being in Männi Park in Mustamäe, and Tondiraba Park in Lasnamäe.
The popular open-air ice rink in Tallinn's old town as well as the one on the grounds of Nõmme Gymnasium, will open next Saturday, November 18.
The opening of the ice rinks always brings a cozy, warm atmosphere to Tallinn, evoking the feeling of the approaching holiday season. We remain committed to keeping the entrance fees affordable, while also offering free entry for senior citizens and school groups," explained Tallinn Deputy Mayor, Vladimir Svet in a statement.
All of the rinks will be open from 10 am throughout the winter season, closing at either 9 or 10 pm depending on the rink. Tickets cost 7.5 euros for adults Monday to Thursday and 9.5 euros Friday to Sunday. Discount tickets are 5.5 euros and 7.5 euros respectively depending on the day of your visit. Renting skates is an additional cost at 4.5 euros.
More information on the rinks, opening times, prices, as well as season passes can be found on the official website here.
To learn more about this and similar topicsIce Rink Ice Rink Tallinn Ice Skating Old town Open Air Ice Rink Tallinn Vladimir Svet