Medieval surroundings and tender pig tails
Text Susanna Poikela
Photo III Draakon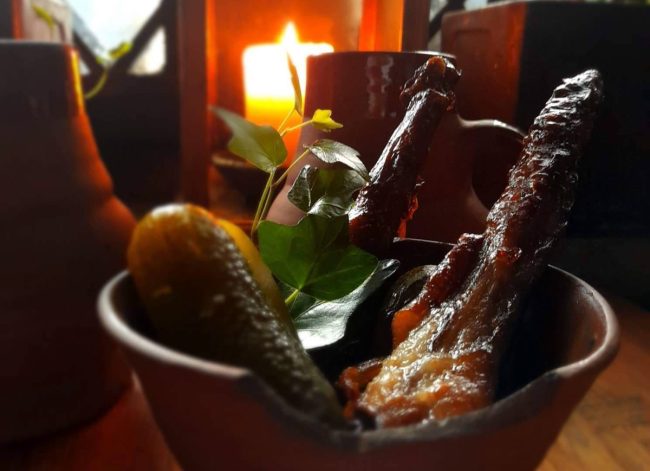 III Draakon (III Dragons in English) can be found in the old courtroom of Tallinn Town Hall, on the side facing the square. The restaurant offers traditional medieval game dishes, pies and warm soup prepared on-site.
The place is small and it's not easy to find seats inside, particularly in the evenings. However, there are long tables outside in front of the tavern, where you can also enjoy the food, in addition to the atmosphere of the town hall square.
The service can be surprisingly stern, especially for modern folk. As an appeasement, and to see their true kind nature, you should give the hostess, typically, one coin.
One of the hostesses stated, "dogs are always welcome, but we are more specific when it comes to people". There is a basket full of thick bones in the doorway, which dogs can chew at their pleasure.
You can try long-aged, tender pig tails, which are eaten with your hands according to local custom. You can get this particular delicacy for just three coins (three euros in today's currency).
The simple dishes served in clay bowls are beautiful and attractive. When the food and drinks have been consumed, the dishes should be collected from the table and taken to the basket reserved for them. In this way, the hostesses are saved a heavy workload. This place is definitely worth a visit if you are interested in medieval life and food.
III Draakon, Raekoja plats 1, Tallinna.

To learn more about this and similar topicsDraakon III Draakon Medieval Food Medieval Food Tallinn Medieval Tallinn Raekoja Plats restaurant Tallinn