Legendary American rock band Swans to perform in Tallinn on October 25.
Text Mark Taylor
Photo Press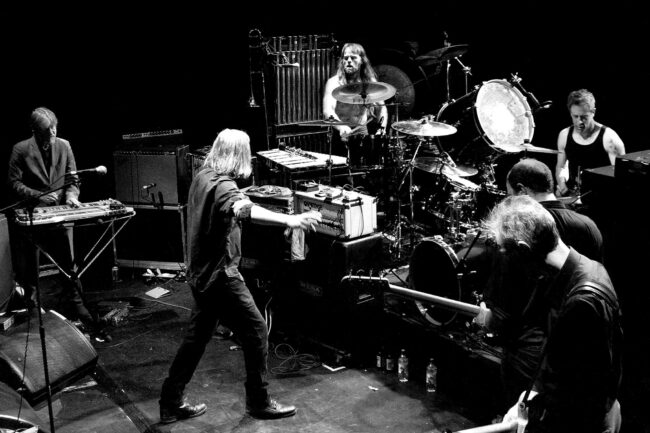 New York experimental rock band Swans will perform at the HALL club in Tallinn on October 25 this year. The band, which were first formed more than 40 years ago, have released 5 studio albums over the past 10 years, including cult classic "To Be Kind", which was named by Pitchfork as one of the best albums of the decade.
In a career that has now spanned more than forty years, the Swans have undergone several transformations. At different moments it has been possible to define the band from the prism of post-punk, industrial, doom metal, gothic and psychedelic rock.
Formed in 1982 under the direction of Michael Gira, Swans were known in their early years for their misanthropic lyrics and relentless waves of sound. The Guardian described their work at the time as choppy and deafeningly rhythmic, complemented by Michael Gira's nihilistic and existential lyricism.
However, when singer Jarboe joined the band in 1986, Swans' work became more melodic, the creative ethos of tearing rock music into its most revealing form was preserved, but Gira wanted to free the band from its scary and noisy image. Albums like "White Light from the Mouth of Infinity", "Love of Life", and "The Great Annihilator" were more accessible than their previous work and included influences from acoustic rock, blues and pop music.
When Michael Gira decided to call it quits with the band due to lack of time in 1996, he and the others worked on their own solo projects and other bands, but in 2010 the alternative rock group was reunited and have since released five studio albums to the acclaim of critics and fans alike. Among these five studio albums of the 2010s, however, there were two albums where the technical and creative level was assessed as almost perfect. 2012's "The Seer" and 2014's "To Be Kind" are now cult classics, the latter which was named by Pitchfork as one of the best albums of the decade.
To learn more about this and similar topicsConcert HALL Club Live Music music Rock Rock Concert Swans Swans Tallinn