Learn Your Craft: Grin and Beer it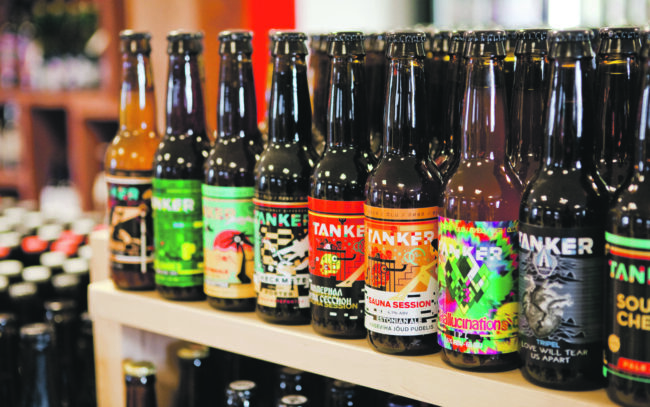 When most people come to Estonia, they want to sample something cool and local. They ask your average Old-Town waiter or waitress what the local beer is, and they are, unfailingly, given a pint of Saku. While this is, according to the letter of the question, a local beer, it's not the best Estonia has to offer. That accolade, instead, is one of the many varieties of craft beer available on nights out in Estonia. Let's take a look at the bars and nightspots that will help you to learn your craft.
We start with the grandaddy of craft beer bars in the Telliskivi area of Tallinn, Pudel (Telliskivi 60A, Tallinn). We've covered this bar before, set in a former factory with its pine tables, exhaustive blackboard of taste options and welcoming bar-staff, but the bar has recently added an extension, which opens out into a new, spacious, room, with beer barrels on the wall and has the perfect atmosphere for a party or function.
You can ask any member of the knowledgeable staff for information about the hundreds of beers from breweries renowned for quality like Brewdog and Põhjala, and they will tell you, or give you a small sample so you can make your own mind up. It's the sort of place to which friendly, unpretentious people go – it's certainly not exclusively a bar for hipsters, and the succession of comedy, music and even drawing nights will inspire you to see what is possible in Tallinn.
In the light of bars like Pudel proving that there was a demand in the Kalamaja district for high-quality, strong-tasting beers, Põhjala Brewery, under the guidance of master brewer Chris Pilkington, opened Speakeasy (Kopli 4a, Tallinn) next to the main Balti Jaam railway station. Although this area is presently being quite aggressively developed by big property companies, at the time two years ago when Speakeasy opened, the wooden-walled box-bar was one of the first new additions in many years to that part of Kopli Tanav.
Now dwarfed by the concrete foundations of luxury high-rises, this experimental lab for taste-buds prefers to show progress in a beer glass. With both Põhjala's own brews and also imported craft delicacies from trusted companies like Buxton, there is always something new to excite, and something established to comfort. There is a selfconsciously-basic interior, which allows most of the bar's revenue to go into the core business of developing great tastes to enjoy, rather than overheads and fripperies. Põhjala frequently tests out beer ideas at Speakeasy, and it's a genuine thrill to be part of the development process for such an exciting brewer.
If you get your kicks in a more sedate manner, or perhaps you're out with a partner, a work group, or family, the bar to go to is Pööbel (Toompuiestee 16, Tallinn). Far away from the craft-beer hubbub of Kalamaja, this bar is actually right at the foot of Toompea, adjoining a rather nice hot dog cafe called Hotokas. Even in spite of this, don't worry about the quality of the food; everything from Baltic sprats on black bread (as part of a locally-themed beer platter), through to a hearty and tender breaded pork schnitzel, is geared towards complementing the very wide range of local and international beers and ciders which fill several fridges at Pööbel. If you want edgy decor, you're sure to be interested by the blackboard walls, which carry fun and inspiring messages, even on the ceiling.
Sometimes it's not enough to consume the craft beers of Estonia – you want to take it home with you too. For those times, Sip (Telliskivi 62, Tallinn) beer shop is sure to serve you. Every craft beer you have ever thought of, and some you hadn't, jostle for shelf space with the best of wine and Estonian cider. If you want to sample a glass, sit at the tables around the store and take your time, savouring the taste. It's the least you can do.
Click on the address to see the location.
TEXT STUART GARLICK, PHOTOS ANDREI CHERTKOV
Stuart Garlick is a journalist and English language teacher based in Tallinn. Since 2012, his blog, Charm Offensive, has covered food, music and fashion in Estonia.
To learn more about this and similar topics