Kuressaare Street Picnic this Saturday
Text Mark Taylor
Photo Saaremaa Toidufestival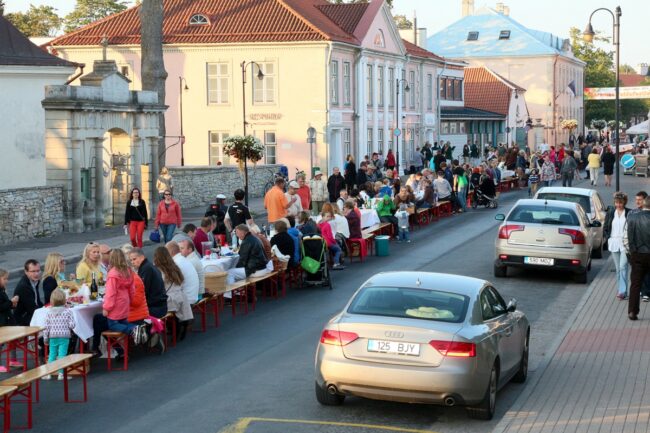 Tomorrow evening, September 9, a stretch of Lossi tänav in Kuressaare city centre will be transformed into a giant picnic area with two sets of tables that are 500m long. As in previous years, it is hoped that visitors will wear Estonian national costumes as well as bring picnic baskets full to the brim with treats.
This Saturday, picnic tables will be set up in Saaremaa for the annual Kuressaare Street Picnic. At the event, which will see two rows of tables more than 500 m long on Lossi tänav in the city, visitors will be able to enjoy a picnic with their favourite snacks, drinks and people (as well as thousands of potentially new friends).
Along with dusting of your recipe books and bringing your favourite and most tasty picnic snacks, visitors are also encouraged to put on their stripy socks, knee-length trousers and other traditional Estonian costumes, which have added to the atmosphere at the event in previous years.
The picnic will begin at 6 pm and is expected to last till 11. However, there will be follow-up events in the city's cafes, restaurants and nightclubs long into the night for those looking to party more.
It is still possible to reserve yourself a table for the picnic. Tables, which accommodate up to 8 people can be purchased at Fienta. The snacks and drinks you will have to bring yourself.
To learn more about this and similar topicsCafé Estonian National Costumes Food Kuressaare Kuressaare Street Picnic Picnic Saaremaa