Kadriorg Park – Tallinn's oldest and grandest park
Text Mark Taylor
Photos Andrei Chertkov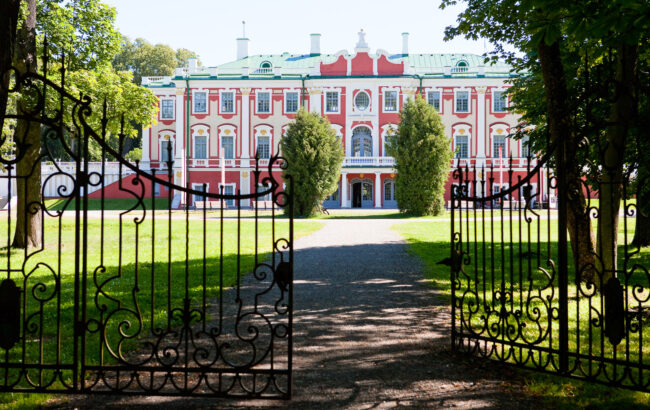 View through an old gate to Kadriorg Palace.
Kadriorg Park is by far the most famous and oldest park in Tallinn. The origins of the park date back to 1714 when Peter the Great (the Tsar and Emperor of Russia) purchased 5 summer residences at the base of Lasnamae hill following his victories in the Great Northern War.
With the land both close to the old town and the sea, the Tsar saw the area as the perfect location for a summer palace. Within just 7 years, the most luxurious palace and park grounds in Estonia were completed.
Today, the palace of Peter the Great (known as Kadriorg Palace) is open to the public and also contains both static and temporary art exhibitions. Later additions such as the Peoples Park, Alpine Park and bandstand in the 1930s, along with the more recent addition of the Japanese garden transformed the park into what we see today.
The park is also home to the residence of the President of Estonia and Kumu Art Museum, that as well as featuring in the recent blockbuster movie Tenet, received the European Museum of the Year Award in 2008. With a number of other smaller museums, it is very easy to spend a whole day in Kadriorg Park.
It is possible to get to Kadriorg Park by both tram and bus from the city centre in less than 10 minutes. Walking will take around 30 minutes, and a taxi will cost 5 euros or less. Entrance to the park is free of charge, but the palace and various musuems have entrance fees.
To learn more about this and similar topicsKadriorg Kadriorg Palace Kadriorg Park Kumu Kumu Art Museum Parks in Tallinn Peter the Great Tallinn