It's Midweek: Put Away Your Spreadsheets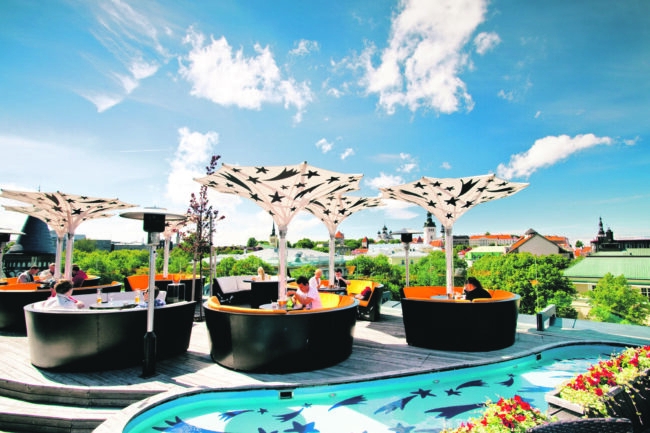 Summer, in spite of the frequent weather warnings, is not officially over yet, and so it's time to don the linen shirt, and venture out into the night in search of true love and high adventure. We've got places you won't want to miss in your quest for the best summer night out, and the intriguing thing is, the events take place on Tuesdays and Wednesdays – not your average party nights, though this isn't your average party city.
Tuesdays are the new Fridays. How do I know this? Because Clazz (Vana turg 2, Tallinn Old Town), the feelgood jazz bar in the middle of the Old Town, has its weekly Brazilian Night on an evening when most people are contemplating spreadsheets or another Game of Thrones marathon. Denise Fontura is back, the Brazilian singer, a longtime resident of Tallinn, fronting one of the tightest samba and Latin bands you'll hear on this continent. Clazz, down some, in what seems to have been a cellar at one point or another, and this all brings the atmosphere of a cosy and luxurious cave. The cocktails are spot-on, every time; I tried the Hennessy Ginger for a change, and will be doing so again as regularly as I possibly can.
Kohvik Komeet (Estonia pst 9, Tallinn), the restaurant owned by celebrity Estonian chef Anni Arro, has been running its signature Wednesday party nights on its sun terrace, on the roof of the Solaris centre, for years now. The current party is beloved by locals for its laid-back nature, with the tables usually full and the sponsor's champagne flowing all night. Komeet has a nationally-renowned selection main courses and particularly cakes downstairs, so we'd definitely recommend that you spend time in the restaurant, and then make your way up to the party, to get the full summer experience.
The party is intended as a meeting place for like-minded people, and groups of friends tend to stick together on tables. If you intend to go, our advice is to go in a group, and to book a table if you possibly can. Spaces fill up pretty quickly, so call well in advance.
Over on the other side of town is the party that used to take place at Komeet, but has now found a new lease of life, and indeed a new lease, at PADA (Kalasadama 6, Tallinn), the garden-bar formerly known as Kultuuri Katla Aed. When KKA opened in 2012, it was pleasantly rinky-dink, with post-industrial buildings, a hot tub that was occasionally put into use, and various amateur initiatives from theatre workshops through to pizza-making classes being put on in its vast grounds. These days, its replacement is a lot more controlled and a lot more corporate, and while that might not appeal as much to the beard-and-veganism fraternity, PADA now has facilities to rival most other venues in Tallinn.
Since being taken over by a new administration, the garden has become a lot more professional-looking and polished, with various zones including a kind of adult sandpit, a bench area for sitting and enjoying waterpipes, a stage for live bands, and a wide, wood-panelled, terrace that looks stunning on a sunny night. The beer isn't expensive, though for the Wednesday parties, known as Legendary Wednesday, you will be charged an entry fee. Trust me, it's worth it when you get in.
I had a great time at the party, and even though there were not many people I knew, it was easy to find the friends who were attending, and also to get to know new people, because everything in this enormous open garden is geared towards encouraging mingling and breaking cliques. That's why Legendary Wednesday at PADA is truly a night for the ages. 
Click on the address to see the location.
TEXT STUART GARLICK, PHOTOS ANDREI CHERTKOV
Stuart Garlick is a journalist and English language teacher based in Tallinn. Since 2012, his blog, Charm Offensive, has covered food, music and fashion in Estonia.
To learn more about this and similar topics