How many chillies can you tolerate?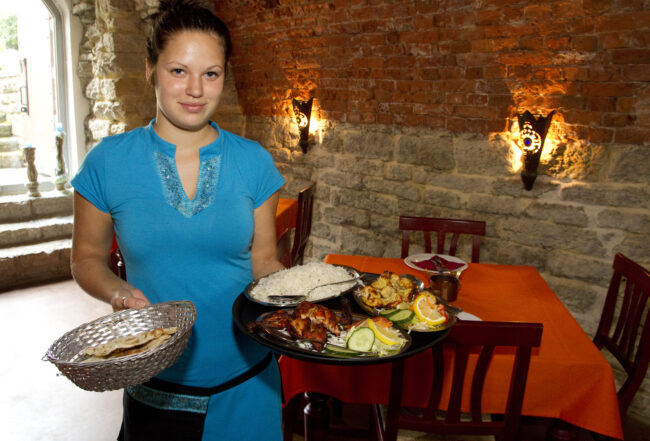 When you're tired of meat and potatoes, visit any one of these great restaurants for a little bit of spice.
Chedi
Sulevimägi 1, Tallinn Old Town 
If you're in the mood to splurge for a fancy meal, Chedi is the place to come. The modern interior welcomes guests into an exotic and intimate setting for a meal to remember. Try the fried squid and the pork ribs. Every dish is beauti- fully plated and perfect for sharing.
Shimo Wok & Roll
Rataskaevu 9 / Dunkri 11, Tallinn Old Town
The kitchen stays open late at Shimo, and if you're counting your pennies you need look no further than this bar. They have a good and inexpensive selection of Tex- Mex favourites and some Asian- fusion dishes as well.
Tokumaru
(2nd floor, Solaris Shopping Centre) 
Located just above the cinema in the Solaris Shopping Centre, Tokumaru is Tallinn's first ramen place. In addition to ramen, there is also a good selection of sushi. For something different, try the Aburi salmon – it's salmon sushi that was been cooked slightly on the top and served with a thin slice of lemon.
Cha Dao
This is probably the best place to come for dim sum in Tallinn and not spend a fortune. If you come at lunch, Cha Dao offers business lunch specials, which include soup, salad, and a main. Tea lovers will certainly enjoy their extensive list.
Golden Dragon
If you are craving lemon chicken, and other fried Chinese favourites, this is the place to come. This cheap and cheerful Chinese restaurant is located in a cellar in the Old Town; go to the back of the restaurant for a cosy booth.
Gotsu is the best place for Korean food in Tallinn, hands down. It's a little ways out of the Old Town, but worth the walk, or short tram ride. Try some of the house made ice tea, kim chi, and the fried chicken with chilli.
Cerrito Burrito
(1st floor, Solaris Shopping Centre) 
The short menu at Cerrito Burrito offers tacos, salads, soups, nachos, and burritos, of course. There is something for everyone, including gluten-free tortillas and vegetarian fillings. Spicy means spicy here, but you can add even more to your burrito with their selection of hot sauces.
Papa Joe's Falafel
Located in the port area of Tallinn, Papa Joe's Falafel has a small menu of vegetarian and meat dishes. Be sure to try the grilled halloumi and sujuk wrap. The falafels are prepared while you wait, and the friendly staff is always chatty and eager to tell you more about the food.
Chakra
Bremeni käik 1, Tallinn Old Town
This is the best option for Indian in Tallinn. It's located a little off the beaten track in Tallinn's Old Town in a tiny passageway. The three dining rooms are rich- ly decorated with bright fabrics that hang from the ceiling. The menu is long, offering everything from veggies to seafood, chicken and lamb. And best of all: spicy means spicy.
The Street Wok
The small menu includes dishes like Nasi Goreng and Beef Kway Teow, served in generous portions. Tip: ask for spring rolls (not listed on the menu). They make a great starter while you wait.
TEXT KRISTINA LUPP, PHOTOS ANDREI CHERTKOV
To learn more about this and similar topics