Floating digital flowers from around the world have conquered Viru Keskus
Text Timo Huttunen
Photo Viru Keskus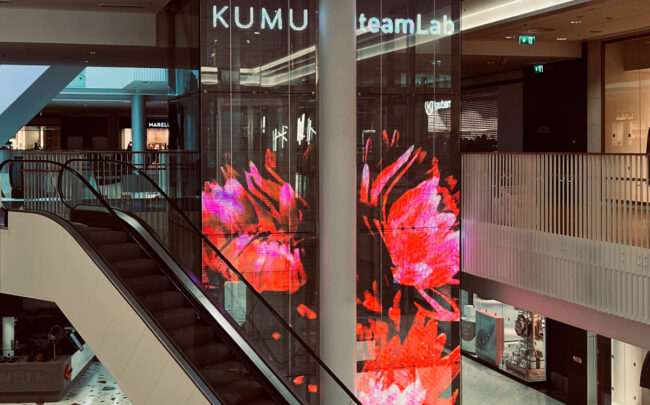 On the initiative of the Estonian Art Museum (Eesti Kunstumiuseum), the exhibition of the world-famous teamLab, which makes digital art, has arrived in Estonia for the first time. Part of the visual installation can also be seen at Viru Keskus shopping centre in the heart of Tallinn.
Three works from the exhibition, which also offer the opportunity for interactive participation, can be seen at the Kumu Art Museum in Kadriorg.
TeamLab's exhibitions have been exhibited around the world in the largest art museums, for example in Tokyo, Shanghai, Beijing, Hamburg, Singapore, Seoul and Miami.
In the Viru Keskus, on a digital screen more than 20 square meters in size, you can see a fragment of the work "Proliferating Immense life", which shares a message about the life cycle of nature and plants through a visual story, from germination and flowering to withering.
Thanks to the cooperation between Kumu and Viru Keskus, around 40,000 visitors to the shopping centre can get to know the artwork every day.
"Digital art is a growing art trend that utilises all the possibilities of modern technology instead of brushes and paints. TeamLab combines the themes of art, science, technology and nature in its work. We are very happy that in Kumu, Estonians can walk amongst the digital nature created by teamLab," said exhibition coordinator Inga Jaagus.
You can learn more about the exhibition here.
To learn more about this and similar topicsArt. Art Museum Digital Art display Installation Kumu teamLab Viru Keskus