Festive buffet now available on Tallink ships
Text Mark Taylor
Photo Lauri Laan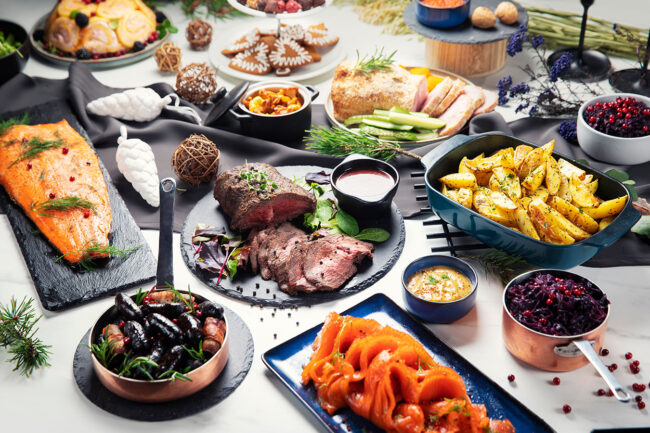 Christmas officially starts on Tallink and Silja Line's ships today, Thursday November 17, with the introduction of its traditional festive buffet. The Christmas buffet offers delicacies from Finnish, Swedish, Estonian and Slavic cuisine. The rich Christmas buffet contains up to 140 different products, almost 40 per cent of which are vegan.
"The annual Christmas buffet is always highly anticipated and for many of our customers one of the highlights of the trip. In the buffet restaurant, you can enjoy a 12-course Christmas dinner if you wish, and everyone will surely find their favourites from the wide selection," comments Marko Makke, Tallink Group's Food & Beverage Director.
The Christmas menu of the restaurants includes the most popular dishes from the cuisines of the four Baltic Sea regions – Finnish, Swedish, Estonian and Slavic.
From the Finnish Christmas table, the selection includes, for example, smoked reindeer mousse with rye bread, Christmas ham, carrot, various gratins and cone cake.
The Swedish cuisine includes a wide selection of fish dishes, such as MSC-certified herring and shrimps, meatballs, and on some ships also crummus, a Swedish non-alcoholic Christmas drink.
From Estonian delicacies, the table is covered with sauerkraut, blood sausage, roast pork and "spotted dog" cake.
The selection is complemented by Slovak delicacies, such as kulibjaka or salmon pie, marinated forest mushrooms, game terrine and pickles.
The Christmas buffet will be served on the Tallinn-Helsinki route Shuttle ships and the Tallinn-Stockholm route from 17.11.-31.12.2022. It will also be served on routes from Finland to Sweden.
On the Tallinn-Stockholm route, the price is 40 euros when purchased in advance and 44 euros per adult when purchased on board. While on the Tallinn-Helsinki route the Christmas buffet is served during lunch and dinner and its price is 29 euros when purchased in advance and 32 euros per adult when purchased on board.
In addition to the Christmas buffet, the ships also offer a three-course special Christmas menu, which is served in the ships' a la carte restaurants from 17 November to 26 December 2022. The price of the three-course Christmas menu is 47 euros, and the price of the vegan Christmas menu is 39 euros per person.
To learn more about this and similar topicsBuffet Christmas Christmas Buffet Festive Food Tallink Christmas Tallink Christmas Buffet Tallink Christmas Menu Tallinn Helsinki Ferry