European Commission President Ursula von der Leyen in Estonia – "We have to protect European citizens from Putin's war on energy."
Text Mark Taylor
Photo Raul Mee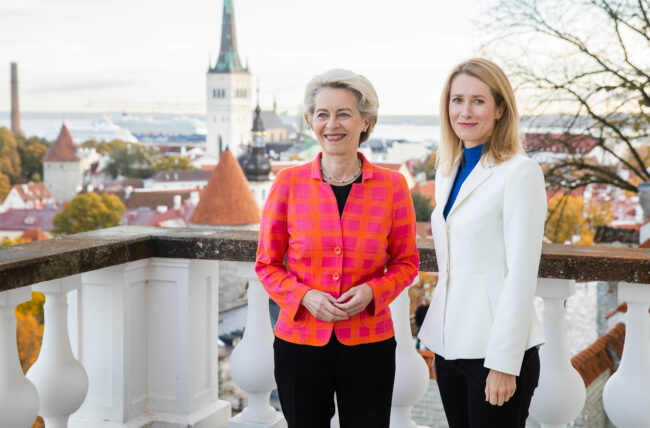 Today marks an official visit of European Commission President Ursula von der Leyen to Estonia. During today she will meet with Estonian Prime Minister Kaja Kallas and President Alar Karis, open the Tallinn Digital Summit, and visit Narva – discussing topics such as the war in Ukraine, security, and energy.
This morning European Commission President Ursula von der Leyen met with Estonia Prime Minister Kaja Kallas in Tallinn to discuss a number of matters including the war in Ukraine, energy security and prices, as well as the transition to green energy and other topics.
Regarding the war in Ukraine von der Leyen highlighted the efforts of the people of Estonia in supporting Ukrainians stating that, "the warmth with which the Estonian people have opened their hearts and their homes to Ukrainian refugees. This is outstanding and it will never be forgotten".
After meeting with Prime Minister Kallas she went on to meet with President Alar Karis in Kadriorg, before going on to open the Tallinn Digital Summit, where a five-point plan developed by the European Commission was presented. On this, the European Commission President stated, "we need to be vigilant regarding our critical infrastructure. What happened to Nordstream 1 and 2 shows that we have to be prepared for these new types of threats".
Regarding energy prices and talking further on energy security von der Leyen added, "we have to protect European citizens from Putin's war on energy. It is because of Putin and his war that electricity prices are high, that gas prices are high. That is the price he wants us to pay."
Despite this, she assured that both the supply of energy would be secure and prices reduced explaining that, "we will come forward with the commission in the next two weeks with proposals to tame energy prices. The aim is to reduce the price to a certain level without endangering the security of supply."
However, she added, "the best way over time to get rid of any kind of blackmail from Russia is to accelerate the green transition to renewable energy". An area that will be discussed more this afternoon at the release of the Just Transition Plan in Narva that will see over 350 million euros invested by the EU into Ida-Virumaa to support the region's industrial change.
While in Narva, Ursula von der Leyen and Kaja Kallas will also visit the border with Russia where more rigorous controls have been placed in recent weeks.
To learn more about this and similar topicsAlar Karis Energy Prices European Commission President Just Transition Plan Kaja Kallas Tallinn Digital Summit Ukrainian Refugees Ursula von der Leyen