Estonia's biggest vegan fair will gather more than 70 companies 
Text Susanna Poikela

Photos Ken Mürk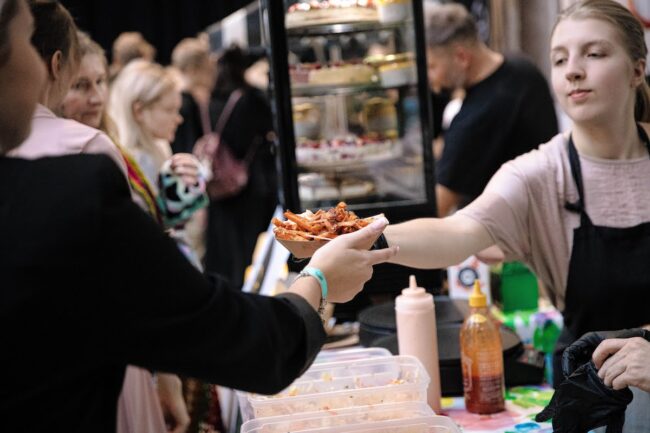 This weekend, 7–8 October, the biggest vegan event of the year in Estonia will take place at Kultuurikatel in Tallinn. At Veganmess 2023, you will be able to explore the products of more than 70 vegan companies, listen to interesting presentations, watch documentary films and more.
In total, more than 70 companies from Estonia and abroad are expected to participate in the vegan fair this year, presenting a wide array of vegan items, from food and cosmetics to cleaning and health products. There will also be interesting presentations and discussions, live podcasting, and documentaries. There will be a pop-up clinic and library at this year's fair too.
Social activist Maiko Mathiesen, who represents Estwatch, an organisation that promotes a sustainable economic system, will appear on the fair stage during the two days. In addition, fitness coach and two-time European powerlifting champion Gert Koovit, well-known Estonian influencers Iti-Pätrik Järve and Kristjan Klasen, and street food company creator and writer Myrakas, will all share their knowledge and experience along with other experts in the industry.
The documentary film "The Secret Life of Pigs", which caused a lot of buzz in Norway, will also be shown at the fair. The documentary is about a woman who visited Norwegian pig farms for five years and secretly filmed everything that happened there.
A one-day trade ticket to the fair costs 7 euros when purchased in advance on Fienta and 10 euros if purchased on the door. Children under 12 can enter the event for free.
You can learn more about the fair and the full programme of events on the official Veganmess website (in Estonian only).




To learn more about this and similar topicsDocumentary Food Kultuurikatel Tallinn Vegan Fair Vegan Fair Tallinn Veganmess Vegan Mess 2023