Estonian National Male Choir to perform the premiere of a specially arranged piece
Text Susanna Poikela
Photo Jaan Krivel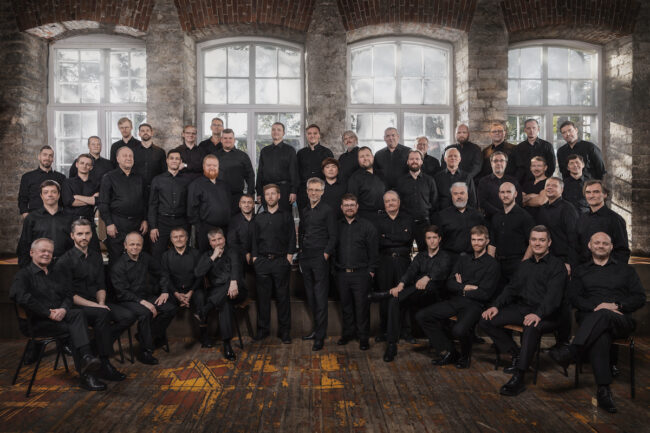 The Estonian National Male Choir and respected Estonian musicians such as Theodor Sink are set to perform two concerts this week. In Pärnu on November 17, and Tallinn on November 18. At the concert evening entitled "Some other Paradise", you will be able to hear the premiere of a piece by Armenian composer Vache Sharafja which has been arranged especially for male voices.
During the first half of the concerts, the pieces "God Protect Us from War!" by the powerful Estonian composer Veljo Tormis, "Centuries" by the Ukrainian Vladimir Agopov, "And Death Shall Have No Dominion" no. 1-3 by the Lithuanian composer and conductor Vytautas Miškinis, as well "Curse Upon Iron" by Tormis, will be performed.
"The changing world also changes the meaning of already existing works of art. If anything, the aforementioned musical pieces are especially important now. The same can be said about the other works in the program," explained conductor Mikk Üleoja.
In the second half of the concert, the premiere of Armenian composer Vache Sharafja's cello concerto no. 3 "Some other Paradise", to which the concert is named, will be played. The original piece was written for a mixed choir, cello, piano, tuned bowls, and pipe bells. The Estonian National Male Choir commissioned an arrangement for male voices, which will now be performed for the first time to the public.
"The text of the work is based on the story "Little Paradise" by the Argentinian writer Julio Cortàzar. The text and music of the work are multi-layered and ambiguous, and offer listeners plenty of opportunities for philosophical reflections on today's world and life in general," continued Üleoja.
The Estonian National Male Choir will be accompanied by respected Estonian cellist Theodor Sink, pianist Ralf Taal, tenor Oliver Povel, and baritone Andrus Alamaa as vocal soloists. The duration of the concert will be about an hour and 20 minutes.
Conductor Mikk Üleoja has been the artistic director and chief choirmaster of the Estonian National Male Choir for the past 12 years. After his versatile music studies in Estonia, Üleoja also studied classical singing in Finland as a student of singing teacher Christiaan Boele. His vocal studies were based on the German-Swedish Werbeck method.
He has sung in many choirs and ensembles, including the early music vocal group Vox Clamantis. However, he has been conducting choirs since 1994, when he was the musical director of the chamber choir Mattone. In the years 1998–2011, he was the choirmaster of the Estonian Philharmonic Chamber Choir, and has been the conductor of the Estonian National Male Choir since 2011.
Tickets for the concerts can be bought online at Piletilevi.
To learn more about this and similar topicsChoir Choral Music Classical Music Estonian National Male Choir Mikk Üleoja Theodor Sink Veljo Tormis