Cheap, Honest and Open: Just What You Need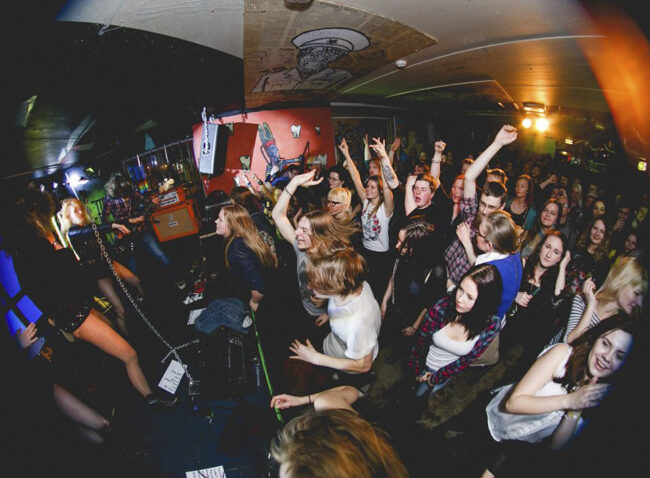 We know how it is. Whether you're in Tallinn for a good time, or a long time, there are times when the money gets tight and you still want to go out. We understand that there are far too many overpriced bars, cafes and clubs in the Estonian capital – but there are real gems if you look hard enough. Let's take a look at some places you can go where not only does everybody know your name, but also you'll always be glad you came.
Many great nights have started at Red Emperor Bar (Aia 10, Tallinn Old Town). A few have finished there, too. A lot of the reason for this is the hostel attached to it – it's a fantastic business model, because it means that anyone staying at the hostel has a fun nightspot as soon as they step out of their room. However, no traveller worth their salt is going to stay in a hostel bar just because it's the easiest option. Red Emperor is as strong as it is because the drinks are very reasonably priced, and the atmosphere is always warm and friendly.
Red Emperor has smiley, accommodating bar-staff, vodka laced with Skittles (try it – it's epic), and games like an oversized Jenga, guaranteed to embarrass one of your friends as the tower comes down with a startling crash.
Noorus was the sort of bar you could hang your hat on – a place that always brought a reliable sense of bonhomie, and cocktails for far below the price of the likes of Clazz a few hundred metres down the road. Noorus has now become The Patcave, and just like its predecessor, it's the sort of place that is unpretentious, honest, and capable of kicking your night into the next gear. The bar quite often advertises on its Facebook page an eye-catching special offer night, or a theme party, and it gets in keg after keg of quality beer like Latvia's most popular, Valmiermuiza.
The Patcave gained a fine reputation for parties when it flung open its doors in summer 2016, and it's kept a regular group of loyal customers, who bring more and more of their friends each time, a sure-fire way to tell that a bar knows what people want, and how to give it to them.
The Patcave (Lai 10, Tallinn Old Town) is a regular haunt of Tallinn's branch of Couchsurfing, the global sofa-sharing travel society that isn't just about hosting or taking journeys to new places; CS Tallinn, which you can join on Facebook, is also a great social group, and the fastest way to meet new, tolerant, outgoing people when you come to Tallinn.
Couchsurfers have introduced this writer to a whole host of cheap and cheerful bars over the years, but one of the finest places the group went to was Shimo, the bar that, in two locations, made larger-than-life veteran Tallinn expat Robert Sani a living legend for his DJ skills and his throat-burning 'Rob Shot'.
What made Shimo special was its location next to some snooty, high-class bars selling cocktails for eight euros and above. Shimo's expert cocktail waiters could whip up the same thing for two-thirds of the price. Sani kept his fans informed of his next move on social media, and the same people who met him behind the decks in the original underground location are now flocking to an outwardly more genteel business venture.
Elli's Vrapikohvik (Wrap Cafe, Vana-Posti 2, Tallinn Old Town) might sound like a typical neighbourhood coffee shop, and during the day it is, but on most days it is open until 11pm and on Fridays and Saturdays it stays open into the morning, serving up quality hot wraps with flavours named after Estonian women, and, if you ask nicely, the still-exclusive Rob Shot! Head down to Elli's and see what the fuss is all about. 
Click on the address to see the location.
TEXT STUART GARLICK, PHOTOS ANDREI CHERTKOV, ANDREI OZDOBA
Stuart Garlick is a journalist and English language teacher based in Tallinn. Since 2012, his blog, Charm Offensive, has covered food, music and fashion in Estonia.
To learn more about this and similar topics