A Trendy Café in Telliskivi with a Twist
Text Mark Taylor 
Photo Timo Huttunen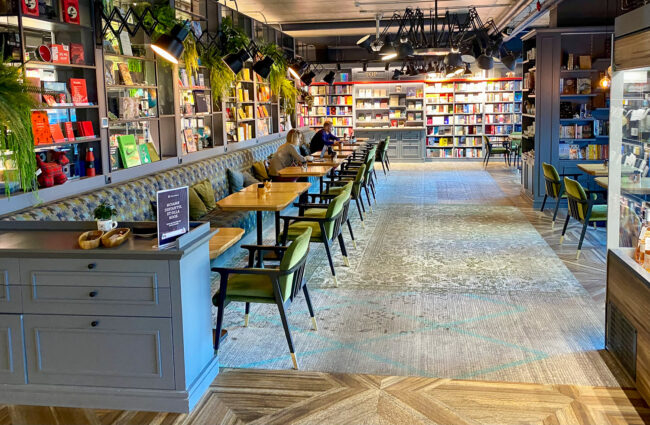 Literaat is a café/restuarant that can be found in Tallinn's trendy Telliskivi district. Very close to Balti jaam (the central train station) and Balti Jaama Turg (the newly renovated indoor market). The main selling point of Literaat is not coffee, tea, and delicious cakes, but books! This is because Literaat is the flagship café of the book chain Rahva Raamat.
So, you can have a nice cup of tea, piece of cake, and take home a brand new book as a little memento of your visit. You may have images of a book shop with a café in it, but it has very much the opposite feel.
This means that Literaat doesn't just have the perfect relaxed and quiet atmosphere for a cup of tea and little read, but also somewhere to sit and work. This is because most tables have their own plug to charge your laptop or phone, and of course, free Wi-Fi is available.
It is also a perfect place to come for lunch or dinner. This is because they have an extensive lunch offer with two items for each day as well as a number of specials for that week – all of which can be had for less than 7 euros.
Come the evening, the separate dining room becomes a good setting for an evening meal, be it with your other half, family or friends. Being in the heart of Telliskivi, if you want to continue your evening, there are plenty of bars close by search as Kärbes, Pudel, and Humalakoda.
As for the food itself, it is not outstanding, but Literaat is not a fine dining establishment. For the price, the food at Literaat is probably a little tastier than you would expect. And when you consider that they serve food from breakfast to dinner. Whatever time of day you come, you will receive a hearty and tasty meal.
To learn more about Literaat, visit their website here.
To start planning your trip…
To learn more about this and similar topicsBookshop Tallinn Breakfast in Tallinn Cafes in Tallinn Café Dinner in Tallinn Estonia Lunch in Tallinn Tallinn