A Quiet Café next to Kadriorg Park
Text and photo Mark Taylor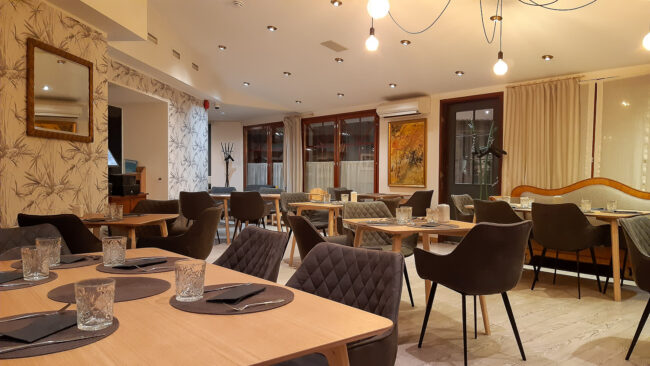 Compared to the central city and the trendy Telliskivi, the district of Kadriorg can seem very peaceful and serene by comparison. With few people walking the streets and very little in the way of pubs and bars.
Nestled away in a quiet street next to the park, you will find Gourmet Coffee Kadriorg. A café with a modern yet upmarket feel. When you come in, you may feel like you are in a bit of a hotel lobby, because to some extent, you are. On the left is the front desk of a hotel and to the right the main counter of the café, displaying a nice selection of cakes and pastries.
When you advance through the opening to the right, you will enter the main seating area of the café. The food menu at Gourmet Coffee Kadriorg is good if you are looking for a nice lunch or dinner, and the quality of the food is decent enough for the price. The surroundings will definitely make you feel it should cost more.
In the summer months, the café opens its outdoor terrace to the rear of the property, which is a pleasant and quiet place to spend a few hours. With a few power outlets, it is also possible to comfortably work at Gourmet Coffee Kadriorg. In fact, the quietness of the café may be a draw for some trying to get work done in relative peace.
The service in the café is also pleasant, and the service is prompt. The only real downsides are the downstairs toilet for people with mobility issues and the slightly limited menu for vegans.
The café is open from 8 am -9 pm Sunday to Wednesday, and until 10 pm on Thursdays, Fridays and Saturdays.
To learn more about this and similar topicsCafé Café Kadriorg Café Tallinn Coffee Kadriorg Coffee Tallinn Gourmet Coffee Kadriorg restaurant Restaurant Kadriorg