Veganmess this Saturday – the biggest Vegan fair in Estonia 
Text Mark Taylor
Photos Veganmess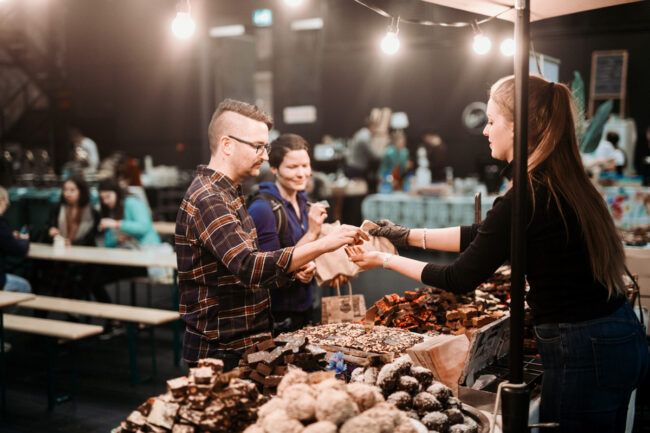 This Saturday, October 22, from 11:00 am to 6:00 pm, the Noblessner Foundry in Tallinn will host the 12th Veganmess fair, where plant-based foods, products and the vegan lifestyle will be showcased.
Veganmess, which used to be known as Taimetoidumess, is the oldest vegan lifestyle fair in the Baltics. This year, nearly 70 exhibits from Estonia and around the world will offer a wide range of vegan foods and consumer goods, health-enhancing superfoods, finished products and raw materials, as well as animal- and nature-friendly cosmetics and household chemicals.
There will also be various presentations and discussions throughout the day, including from personal trainer and powerlifter Gert Koovit, Kristjan and Marleen from the TV show Naabrist Parem, and leaders of the animal-friendly beauty program LILU.
"For the 12th time already, Veganmess brings together and inspires producers and customers of delicious food and vegan products, being a pleasant meeting place for everyone. That's why the fair is like a celebration day. Since the fair was cancelled last year due to the pandemic, this year we will continue from where we left off and make up for the missed party with joy," said Regly Johanson, project manager of the event.
A ticket to the fair costs 5 euros in advance and 7 euros at the door on the day. Children under 12 years of age can enter the event for free. Tickets can be purchased from the Fienta ticketing portal here.
The first hundred visitors to the fair will receive a souvenir bag as a gift.







To learn more about this and similar topicsNoblessner Plant-based Foods Taimetoidumess Tallinn Vegan Fair Vegan Fair Tallinn Veganmess Veganmess Tallinn