Toys from a Ukrainian manufacturer now on sale at Prisma
Text Timo Huttunen
Photo Prisma Peremarket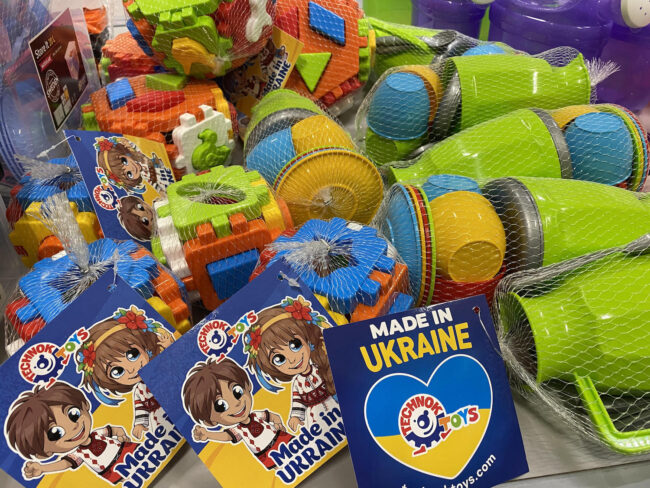 At the beginning of April, a large selection of toys made in Ukraine went on sale in Prisma stores across Estonia. By buying them, you can support the Ukrainian toy manufacturer Technok Toys.
There are toys for both indoor and outdoor use as well as for different age groups.
"We have prominently displayed the toys of the Ukrainian manufacturer Technok Toys in our stores in order to attract the attention of customers. There are many brightly coloured toys in the selection that are well suited for the spring and summer seasons," says Merit Uus, director of Prisma's consumer goods departments.
Prisma found an opportunity to buy toys from a Ukrainian manufacturer and transport them to Estonia in the current difficult situation.
"We have received feedback that thanks to our cooperation, the toy manufacturer can continue its production on a more secure basis and thus offer work to Ukrainian people," says Uus.
She predicts that interest in Ukrainian toys will increase as the weather warms, as there are many toys suitable for outdoor play.
Technok Toys is one of the largest toy manufacturers in Ukraine. The company has been operating for almost 30 years and is located in Ivano-Frankivsk, Ukraine.
In the spring of 2022, Prisma added more than a hundred food products made in Ukraine to its selection. In addition, 50 cents of each hot drink purchased from Prisma will be donated to the Estonian Red Cross for Ukraine.
To learn more about this and similar topicsEstonian Red Cross Prisma Prisma Toys Technok Toys Toys Ukraine Ukrainian Toy Manufacturer Ukrainian Toys