The Tallinn Marathon will be held next weekend 
Text Timo Huttunen
Photo Andrei Chertkov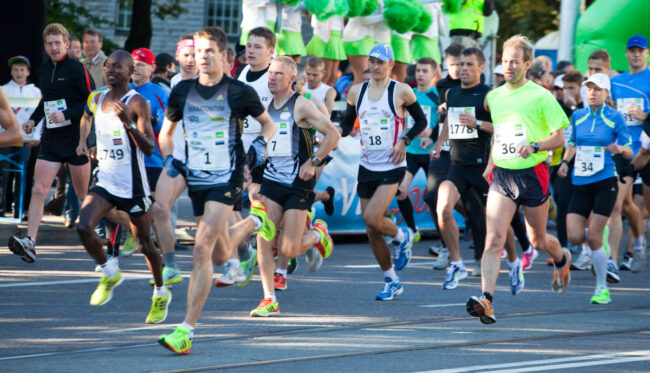 The Tallinn Marathon is Estonia's most popular international sports event. The competition, which brings together thousands of running friends and sports enthusiasts, includes a classic marathon (42.2 kilometres), a half marathon (21.1 kilometres), a 10-kilometre long RIMI race, and a Nike youth run (5 kilometres).
The predecessor of the Tallinn Marathon, the Tallinn Autumn Run, was organised for the first time back on September 3, 2000 in the area around Rocca al Mare. In 2007, the location of the run was changed to Tallinn city centre.
In 2010, the event was renamed the Tallinn Marathon. At that time, a full-length marathon was included in the program for the first time. The Autumn Run and the Tallinn Marathon together have got a quarter of a million exercise enthusiasts on the move.
Top professional runners and thousands of running enthusiasts participate in the Tallinn Marathon each year. The sports program starts on Saturday, September 10 with the half-marathon, RIMI-autumn-run, Nike-youth run and Limpa-run for children, and ends on Sunday (September 11) with a classic full-length marathon.
The marathon is Estonia's most popular international sports event in terms of participation. In 2018, a total of 23,940 runners and sports enthusiasts from 67 different countries participated in the various Tallinn Marathon runs.
The Tallinn Marathon course is run according to the rules of the International Marathon and Long Distance Running Association (AIMS) and the International Athletics Federation. A certified track surveyor measures the route to ensure that the length is correct and the results obtained are valid.
The 2022 Tallinn Marathon medals are inspired by one of Estonia's most important national symbols, the Pikk Hermann Tower. The start and finish of the marathon will also for the first time be next to the Pikk Hermann tower.
To learn more about this and similar topicsExercise Marathon Pikk Hermann Tower Running Tallinn Autumn Run Tallinn Half-Marathon Tallinn Marathon