Tartu's popular summer Car-Free Avenue opens tomorrow with a concert from Stefan and Justament
Text Mark Taylor
Photo Evelin Lumi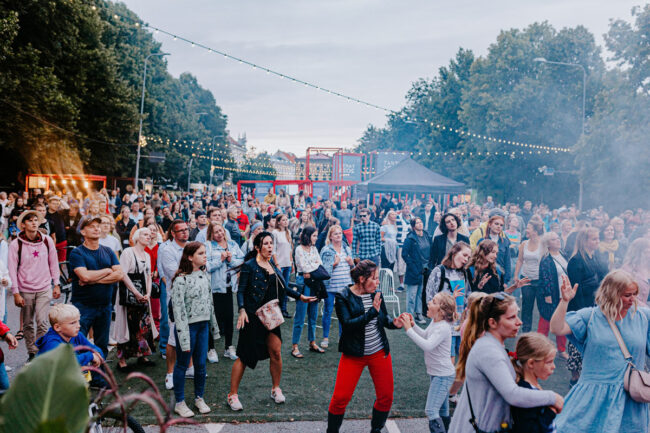 On July 1, the popular Car-Free Avenue will return to the centre of Tartu. This year, Vabaduse Puiestee will be transformed once again into an attractive public space with familiar outdoor furniture from previous years, and Riia Tänav will also be restricted to car traffic. To mark the opening of the Car-Free Avenue, there will be a concert from this year's Eurovision entry Stefan. The band Justament will also perform. The Car-Free Avenue will be open at weekends until August 14.
"According to research, only 13 per cent of Tartu residents would like to travel by car every day if the conditions for other modes of transport were better. This year's Car-Free Avenue will provide an excellent opportunity to test how the residents of Tartu behave when they are given greater freedom of choice in their daily movements. The project will also contribute to meeting climate goals, as the amounts of both noise and air pollution on the streets of the busy city centre will be reduced," said Mayor Urmas Klaas.
Tartu City Architect Tõnis Arjus added, "The project is a testing platform with which we research and analyse, listen to feedback and think about how future investments would support an even better living environment."
The Car-Free Avenue will see Vabaduse Puiestee closed to car traffic and turned into a public outdoor space on weekends between July 1 and August 14. Vabaduse Puiestee will also be completely closed to cars between July 8 and 19, when the WRC Rally Estonia event will be taking place.
The outdoor furniture of previous years will return to Vabaduse Puiestee, as will food and drink stalls. Regular concerts, dance nights, and a food market will also take place on the street. A series of concerts "Tartu 2024 Presents" will take place featuring performances from the likes of Rita Ray (July 16), Horoskoop and Heidy Tamme (July 23), Raul Ojamaa (July 29), and Ewert and the Two Dragons (August 14).
The Car-Free Avenue will be closed on August 14.
Sources: ERR and Tartu City Government
To learn more about this and similar topicsCar-Free Avenue Justament Stefan Tartu Tartu Car-Free Avenue Urmas Klaas Vabaduse Puiestee Tartu WRC Rally Estonia