TARTU – A city of good thoughts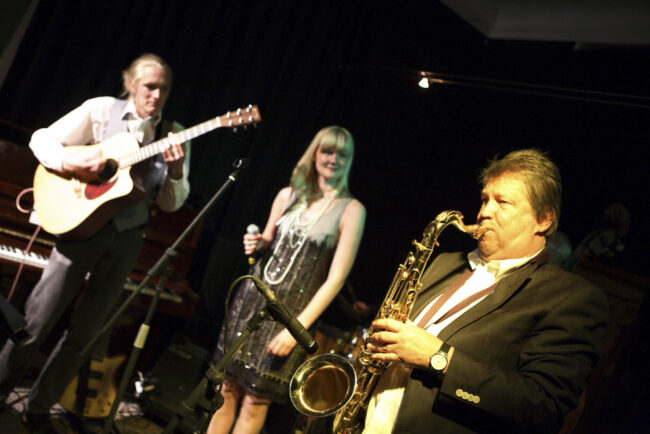 TARTU – A city of good thoughts
Tartu's history dates
back to the 13th century, but became known in 1632 with the establishment of the university. Since then, Tartu has become a student's city, where 20,000 of the 100,000 inhabitants are students. Some of Tartu's most well known landmarks include the Emajõgi River that flows through the centre of town, Toome Hill, the university's main building with its distinguished columns, and of course the "kissing students" in the Town Hall Square fountain.
FALL EVENTS
October 4-7 Oct – Early Music festival "Orient et Occident"
This Tartu music festival brings together the connections between Western and Oriental music cultures. Enjoy listening to some of the world's top performers, rare works, and peculiar instruments. Lectures, master classes, and youth programmes will also be part of the festival.
17 Oct – 19.00 Elite Concerts I: Sinkova-Lend-Leiten
This concert brings together the talents of three Estonian musicians, Oksana Sinkova (flute), Andreas Lend (cello), and Lea Leiten (piano).
University of Tartu Assembly Hall, Ülikooli 18, Tartu.
November
1-3 Nov IDeeJazz: Tartu Jazz and Rhythm Music Festival 2012, Music with positive charge.
For the second year in a row this festival brings together Estonian music and 100 years of jazz tradition. A great opportunity to hear the fresh sounds of some of Estonia's best musicians. Concerts will take place in various venues across the city: Tartu Jazz Club and Vilde Lounge. http://ideejazz.ee
2 Nov – 19.00 All Souls' Day Concert, Estonian National Opera Boys Choir, Conducted by Hirvo Surva. Tartu Jaani Church, Jaani 5, Tartu.
1-30 Nov – Tartu Twin Towns' National Cuisine Days
6th annual food festival where top chefs from Germany, Russia, Sweden, Latvia, Italy, and Greece come to show off and teach their national dishes.
16-28 Nov – Black Nights Film Festival "PÖFF"
This film festival combines a main feature film category along with three sub categories: animated films, children's films, and student films. Films from Estonia as well as abroad will be shown. A great place to spend a dark November night!
December
2-24 Dec – Tartu Christmas City
8 Dec – International Street Dance Festival "Battle of EST"
This festival brings world famous break-dancers to Tartu to choose the year's best. Trick demonstrations, workshops and films about street dance and urban culture will also be part of the program. www.boe.ee
8 Dec – 20.00-00.00 Lõunakeskus The Night of Wonders
The year's biggest event at the Lõunakeskus Shopping Centre. Deals and discounts and the best prices of the year. Enjoy and ice show as well!
15 Dec – 11.00-17.00 Christmas Fair
Find great gifts for your friends and family right in the centre of Tartu at this festive Christmas Fair taking place in Tartu's Town Hall Square and Küüni Street. There will be folk dancing, games, traditional Christmas food, and more.
22 Dec – Vanemuise Symphony Orchestra Advent Concert
Christmas songs performed by the Vanemuise Symphony Orchestra, Opera Choir, and the Tartu Youth Choir, conducted by Lauri Sirp. Tartu Jaani Church, Jaani 5, Tartu
FALL CONCERTS AT VANEMUINE THEATRE
Vanemuise 6, Vanemuise Grand Building and Concert Hall Vanemuise 45a, Vanemuise Small Building www.vanemuine.ee www.concert.ee/tartu
The Tartu Vanemuine is Estonia's oldest theatre. It is comprised of three different buildings – the Grand Building, Small Building, and the Harbour Theatre located next to the Emajõgi River.
11 Oct – 19.00 Golden Classics:
Novosibirski Symphony Orchestra, conductor Gintaras Rinkevi?ius (Vanemuise Concert Hall)
Jazz performance MOONLIGHT EXPRESS – A concert and dance performance with a new spin on jazz classics. (Vanemuise Grand Building)
Performances: 02.10., 07.10., 31.10., 11.11., 23.11., 07.12., 20.12., 27.12.2012
What's new in Tartu?
Swinging through the trees
Opened this past June, the Tartu Adventure Park is the latest in outdoor fun. Located in the Raadi district in an old gravel pit, there are 50 different challenges for you to conquer like climbing and zip lining along a 300-metre line. There is even an area set up for small children, with zip lines as well.
Tartu Adventure Park (Tartu Seikluspark)
Open M-F 10-20
Narva mnt 126D, Tartu
Fancy a cup of jazz?
That's exactly what you'll get at the Tartu Jazz Club. Recently opened in the university's cafeteria, is the new home of the Jazz Club where you can hear jazz music seven nights a week. Listen to live music Tuesday to Saturday evenings, and during the day the club plays great music as well. The club's program director is Oleg Pissarenko, who has been active in the jazz community. He released his seventh album this past April called "Kes Sa Oled." Tartu Jazz Club
Ülikooli 20, Tartu
www.facebook.com/tartujazzclubConcert performance HISPAANIA ÖÖ (Spanish Night) – Love, joy, passion, and music are in the air. (Vanemuise Small Building)
Performances: 09.10., 16.11., 01.12.2012 Nov 16 – 19.00 Symphony Concert (Vanemuise Concert Hall)Nov 30 Premiere "A Night with Strauss" and the Vanemuise Ballet, Symphony Orchestra, and Opera Choir (Vanemuise Small Building) Performances: 06.12., 14.12., 18.12., 19.12.2012.
Dec 2 – 19.00 Golden Classics – Estonian Philharmonic Chamber Choir, Tallinn Chamber Orchestra, conductor Eri Klas (Vanemuise Concert Hall)
Dec 23 – 19.00 Christmas Music. Estonian National Men's Choir (Vanemuise Concert Hall)
Dec 30 – 19.00 Vanemuise End of Year Ball – This annual event put on by the Vanemuise Theatre and Concert Hall is a great chance to see various Vanemuise artists and performers, as well as guest appearances. Tickets 26€, after Dec 1 40€
Get outside this winter in Tartu
Tartu is the place for winter activities, especially cross-country skiing. Tähtvere Leisure Park (www.arena.ee) houses concerts during the summer, but in winter there is a 1.3 kilometre ski track, as well as a skating rink set up just in front of the stage of the amphitheatre. The lit tracks are open until 23.00. The Tartu County Recreational Sports Centre (www.tervisesport.ee) is located outside of Tartu near the town of Elva. Suitable for both recreational and competitive athletes, the lit ski trails stay open until 21.00. The Lähte ski trails (www. visittartu.com) are open 24 hours and are free. Enjoy four different trails of 5km, 2.5km, 2km, and 1km. The trails are lit in winter until 21.00. For a bit more of a challenge, Vooremäe Tervisekeskus (www.suusaliit.ee) has a trail of 8.2km and 3km, with varying elevations up to 60 metres.
The trails are well marked and lit. Children will stay entertained with a tobogganing hill.
If you prefer ice-skating, then you must visit the indoor rink inside the Lõunakeskus (http://www.lounakeskus. com/#liuvali), southern Estonia's largest shopping centre. Open all year round, this rink is suitable for amateurs and professionals alike. Skates are available for rental.
Other outdoor activities to enjoy this winter in Tartu:
– Snowmobile on lakes or trails: http://jaaniussi.ee
– Kick Sled around Lake Peipus: www.peipsimaa.ee
– Snowshoe around Lake Peipus: www.peipsimaa.ee
– Sleigh rides through the forest: www.hot.ee/s/sormuse
Prefer to stay indoors?
Visit the Tartu Science Centre www.ahhaa.ee
– Learn about astronomy at the Old Observatory www.ajaloomuuseum.ut.ee/observatory
– Warm up at the Aquapark Aura Centre http://aurakeskus.ee
– Shop till you drop at the Lõunakeskus, southern Estonia's largest shopping complex www.lounakeskus.ee
– If you haven't had enough of the ice, visit the Ice Age Centre www.jaaaeg.ee
Getting there:
Tartu is about 190km from Tallinn and is accessible by:
Bus: www.tpilet.ee
Train: www.edel.ee
Plane: www.estonian-air.ee, www.flybe.ee, www.tartu-airport.ee
For more information about Tartu visit: www.visittartu.com
TEXT KRISTINA LUPP PHOTOS TARTU ADVENTURE PARK, A. SOARU, TARTU JAZZ CLUB
To learn more about this and similar topics