Tallinn Botanic Gardens to exhibit hundreds of different types of blooming peonies from tomorrow
Text Mark Taylor
Photo Annika Lepp / Tallinn Botanic Gardens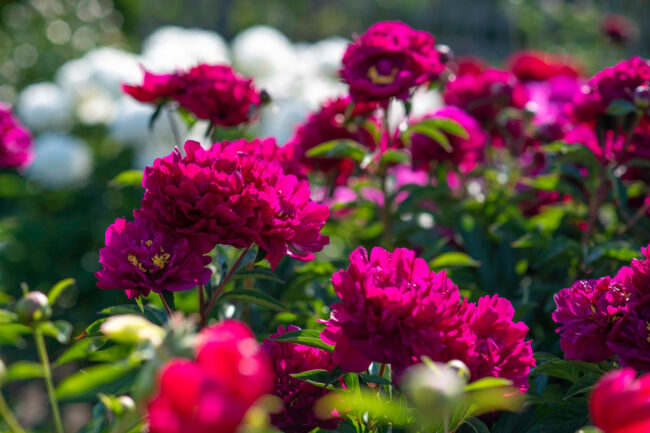 Between 20 June and 3 July, Tallinn Botanic Garden welcomes visitors to a fascinating world of gorgeous peonies. On display will be over 300 different types of peonies at the peak of their blooming season, with new flowers blooming every day.
The display contains more than 300 varieties of herbaceous, woody and a number of Itoh hybrids. These include historical varieties bred in Western Europe and North America in the 19th and 20th centuries.
In China, the tradition of growing peonies as medicinal and ornamental plants dates back several millennia, and their flowers symbolise wealth, beauty, and royalty. They have, however, become rare in the wild due to human intervention. Peonies found their way from Estonian manors to farm gardens more than a century ago, being valued for their beauty and hardiness.
Three main 'varieties' were known by their colour: white, red, and so-called layman's pink. These days, peony enthusiasts can choose from thousands of varieties and hybrids with fascinating flower shapes and colour schemes.
Visitors are encouraged to vote for the most beautiful peony variety in Tallinn Botanic Garden!
It is recommended to buy an 11 euro monthly pass if you want to enjoy all of the early and late blooming varieties.
There will also be a number of events, workshops and a concert during the period that you can attend:
26.06
12.00 guided tour in Estonian (curator Anne Jaakson)
13.00 guided tour in Russian (Maria Strukova)
13.00–15.00 flower-making workshop (Pille Hermann)
29.06
17.00 curator's class (Anne Jaakson)
02.07
12.00 guided tour in Estonian (Urmas Laansoo)
13.00–15.00 flower-making workshop (Pille Hermann)
03.07
12.00 guided tour "White" in Russian (Maria Strukova)
13.00 concert of the ensemble "Oma Band" (Marina Schigorets-Sokolova – saxophone, Aleksander Smirnov – cello, Olga Marenkova – piano)
To learn more about this and similar topicsBotanic Gardens Herbaceous Peonies Itoh hybrid Peonies Peonies Peony Tallinn Tallinn Botanic Gardens Woody Peonies