Shopping Spotlight: ROCCA AL MARE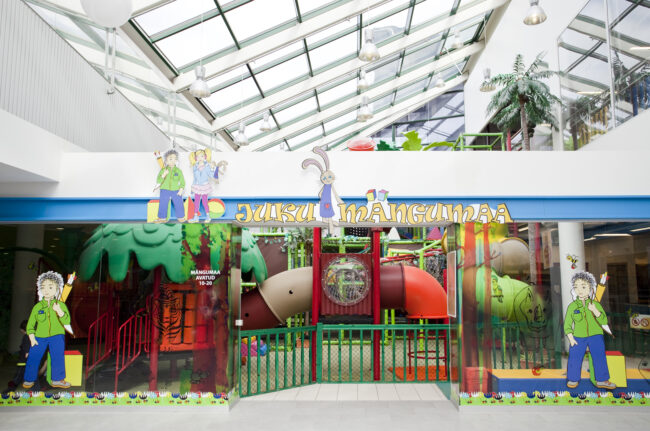 shopping, Tallinn, rocca al mare, prisma, mack bar-b-que, entertainment
This massive centre was completed in 1998 and resembles a large mall in North America. It is over 54,000 square metres in size and houses 170 shops. The shops are mainly clothing and beauty related, but you can find sports apparel, children's toys, home wares, health stores and chemists, as well as a large Prisma supermarket where you can buy just about anything!
Ex-pats living in Tallinn will be pleased to know that the Marks & Spencer with the best grocery department can be found at Rocca al Mare. This is where you can buy those hard-to-find dried herbs and spices like celery salt. The Prisma supermarket is massive. It has a large wine and spirits section, and sells home wares, clothing, everything for the kitchen, and even items for the sauna. And of course, food too.
The second floor of this twofloor shopping complex has a Stockmann outlet. The main location of the Stockmann department store is located in Tallinn's city centre. Come to the outlet for bargains on last year's styles.
Children will be entertained at Juku Mängumaa. This playworld has its own children's café and playground, guaranteed to keep your children entertained for hours. Babysitting services are also available.
Hungry? Rocca al Mare has its share of great dining options, like Mack Bar-B-Que. Here you can find that rack of ribs, or giant burger you have been craving. Mack Bar-B-Que also has another location in Tallinn's city centre, located near the bus station. Feeling like something a bit lighter, try Silk Sushi, also located on the second floor.
If you're headed out that way, why not stop in at the Estonian Open Air Museum, located just down the road.
(Eesti Vabaõhumuuseum, Vabaõhumuuseumi tee 12, Tallinn, www.evm.ee)
Shopping Centres & Department Stores in Tallinn:
Rocca al Mare, Paldiski mnt 102. Prisma, Free bus from the port. Kristiine Keskus, Endla 45. Prisma, Free bus from the port.
Sikupilli Keskus, Tartu mnt 87.
Prisma, Busses 2, 15 and 54 (Sossimägi), Trams 2 and 4 (Lubja).
Mustikas keskus, A.H.Tammsaare tee 116. Prisma, Trolleys 1, 2 and 3.
Järve Keskus, Pärnu mnt 238.
Selver, Buses 5, 18, 32 ,36, 57.
Ülemiste, Suur-Sõjamäe 4. Rimi, Buses 2, 7, 15, 65.
Solaris, Estonia pst 9. Viru Keskus, Viru Väljak 4.
Foorum Narva mnt 5. Tallinna Kaubamaja, Gonsiori 2.
Stockmann, Liivalaia 53.
Near the port:
Lootsi Keskus, Lootsi 8.
Kochi Aidad, Lootsi 10.
SadaMarket, Kai 5.
Merekeskus, Mere pst 10.
Norde Centrum, Lootsi 7. Rimi
Most large shopping centres are open daily 10-21 and the supermarkets 8-23.
Location
Rocca al Mare, Paldiski mnt 102, Tallinn
A free bus leaves the Port daily, approximately every half hour.
TEXT: KRISTINA LUPP, PHOTOS: ANDREI CHERTKOV
To learn more about this and similar topics