Rahva Raamat's Viru Keskus store was chosen as the best bookstore in the world at the London Book Fair
Text and photos Timo Huttunen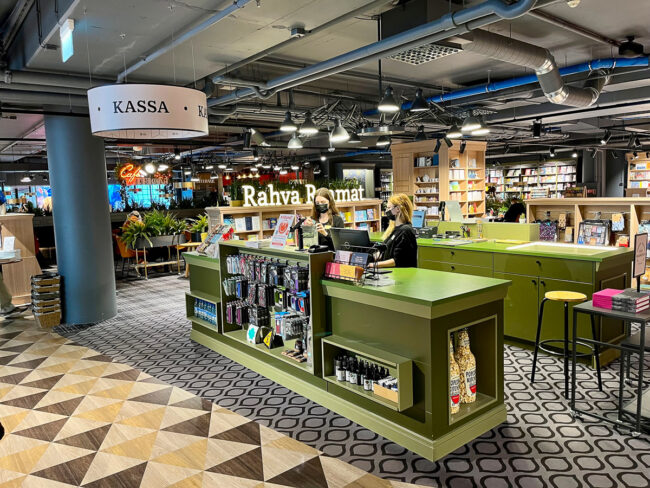 Viru Keskus's newly renovated Rahva Raamat bookstore was chosen as the best bookstore in the world at the London Book Fair. In addition to the Rahva Raamat bookstore, the candidates were La Mistral in Spain and Norli Universitetsgata in Norway.
"We are very pleased that the renovation of the Viru Keskus bookstore, which lasted for almost a year and a half, was so successful that it was also noticed in other parts of the world," said Viljar Ots, Chairman of the Board of Rahva Raamat Bookstore.
The International Excellence Award judges the general atmosphere and style of the bookstore, the level of innovation, creativity, customer service and sales expertise, and the ability to combine a traditional bookstore with digital opportunities.
"The renovated store has been very well received by Estonians, and our sales have increased by 30 per cent compared to the same period last year," Ots added.
The interior design of Viru Keskus' Rahva Raamat store was created by UDDU architects led by Mari Ots. The environmental graphics have been designed by the design agency Velvet.
The International Excellence Award at the London Book Fair will be presented at the Viru Keskus Rahva Raamat bookstore at the London Gala on 7 April.
In the past, Rahva Raamat bookstores have also been successful in applying for the title of the best bookstore in the world. In 2016, the Viru Keskus store reached the top four, and in 2020, the Rahva Raamat store in Tallinn's Old Town was selected as one of the top three.
Source ERR


To learn more about this and similar topicsBest Bookstore in the World Bookstore Tallinn Mari Ots Rahva Raamat Rahva Raamat Bookstore Tallinn UDDU Architects Viru Keskus