Public Midsummer celebrations in Tallinn and Viimsi
Text Timo Huttunen
Photo Visit Estonia Flickr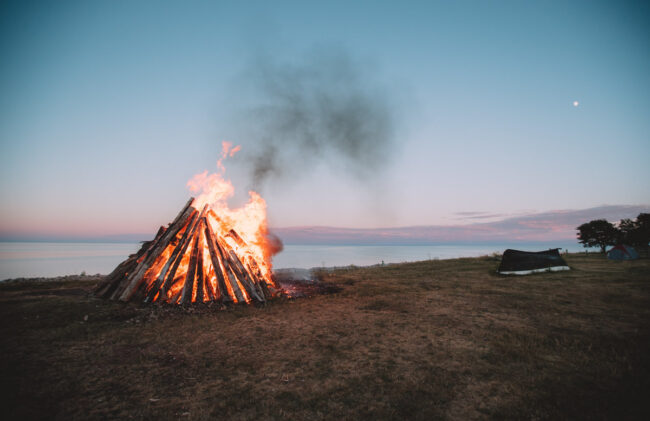 Midsummer (June 24) is one of the most important celebrations of the year in Estonia. It was traditionally celebrated as the end of spring plowing and haymaking.
June 23, is also a public holiday, as in addition to being Midsummer Eve, victory day associated with the battles of the 1919 War of Independence is also celebrated.
Although most Estonians head to the countryside for Midsummer, it is also possible to enjoy a Midsummer party in Tallinn.
A traditional Midsummer at the Open-air Museum
The brightest and most beautiful Midsummer night of the year can be found at the Estonian Open Air Museum on Thursday, June 23. There will be folk music, dancing, a traditional village swing, a program for the kids and, of course, a big fire.
Midsummer in the center of Tallinn
If you are celebrating Midsummer in the center of Tallinn, you can take part in the Midsummer celebrations in Snelli Park on Thursday, June 23.
Stefan, this year's representative of Estonia's Eurovision Song Contest, will perform at the party. Other performers include Boris Lehtlaan and Are Jaama, Masha Ye and Traffic.
There is special area for children with a midsummer-related program. Food and drinks will also be available.
Admission to the Snelli Park Midsummer Party is free of charge for all.
Midsummer party in Viimsi
On Thursday, June 23, Midsummer's Day will be celebrated close to Tallinn at the Viimsi Open-Air Museum.
The party will begin with the lighting of a large bonfire, and the youngest members of the family can get to know animals and even ride a horse. Well-known Estonian artists will perform on stage, such as Marko Matvere and Väikeste Lõõtspillide Ühing, as well as Eurovision representative Stefan and his band. There will also be several food service providers on site.
To learn more about this and similar topicsEstonian Open Air Museum Midsummer Midsummer Tallinn Midsummer Viimsi Snelli Park Stefan Tallinn Viimsi Open-Air Museum