Pikk Street Shopping Guide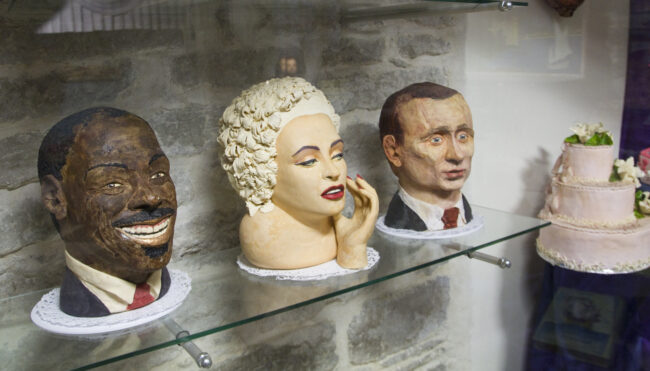 Pikk Street Shopping Guide
First stop, the Marzipan Gallery and Shop. This is a café, gallery, and store all in one. For 3?, try your hand at modelling and painting your own figurine. The lower level houses a gallery with large marzipan models, including an almost life-sized model of Estonian President Ilves. On the main floor, the replica of the Old Town City Hall is impressive.
* Next stop, the Imperial Porcelain Boutique. This is the only Imperial Porcelain shop in the Baltics. Since 1744, the porcelain has been hand made and hand painted in St. Petersburg in Russia. Elizabeth Petrovna, daughter of Peter the Great, established the factory and it became the first of its kind in Russia. Choose between classic styles, like 'Cobalt Net,' which uses 22 karat gold paint, or have your very own design created and then shipped to anywhere in the world.
* The Helina Tilk Shop is home to the whimsical designs of Helina Tilk. You will certainly recognise the Estonian designer's colourful portrayals of Tallinn's Old Town. In the back of the shop, there is also a studio for large groups that can be booked for ceramic painting parties.
* Just across the street is the Anneli Viik Chocolate Café. All of the truffles are made using fine Belgian chocolate, but handcrafted in Estonia. Try the Madame Butterfly truffle made with Bailey's Irish Cream, or The Swan truffle, infused with whiskey.
* Back across to the other side of the street, is the Naiiv boutique. Swedish-born fashion designer Liina Viira has Estonian roots, and her designs are inspired by Estonian folk patterns. She uses these patterns to create traditional yet modern knitted designs.
* A little bit further along, the A-Galerii jewellery gallery is the place to come for a unique gift. The gallery is situated in an old goldsmiths house and has a large safe, which is opened for new exhibits. The jewellery is designed by Estonian designers or designers who have learned their craft in Estonia. The gallery features the work of close to 70 artists and includes both modern and traditional pieces.
* Plaatsiveere Meistrid and Eesti Käsitöö Maja have the same owner, and are both located on Pikk. This is the place for traditional Estonian gifts and souvenirs. Beautiful fabrics, knitwear, and ironworks line the walls. Traditional jewellery can be found in the display cabinets. Walk to the back of Plaatsiveere Meistrid and find two more rooms filled with unique gifts and handicrafts.
1 Marzipan Gallery and Shop
Pikk 40, Tallinn Old Town
2 Imperial Porcelain Boutique
Pikk 38, Tallinn Old Town
3 Helina Tilk Pood ja Tuba
Pikk 41, Tallinn Old Town
4 Anneli Viik Chocolate Café
Pikk 30, Tallinn Old Town
5 Naiiv
Pikk 33, Tallinn Old Town
6 A-Gallerii
Hobusepea 2, Tallinn Old
Town at the corner of Pikk.
7 Plaatsiveere meistrid and Eesti Käsitöö Maja
Pikk 15 and Pikk 22, Tallinn Old Town
TEXT: KRISTINA LUPP, PHOTOS: ANDREI CHERTKOV
7
7
To learn more about this and similar topics