New solo exhibition by Shoplifter opens at Kai Keskus in Tallinn  – Open air cinema to open in July
Text Mark Taylor
Photo Aron Urb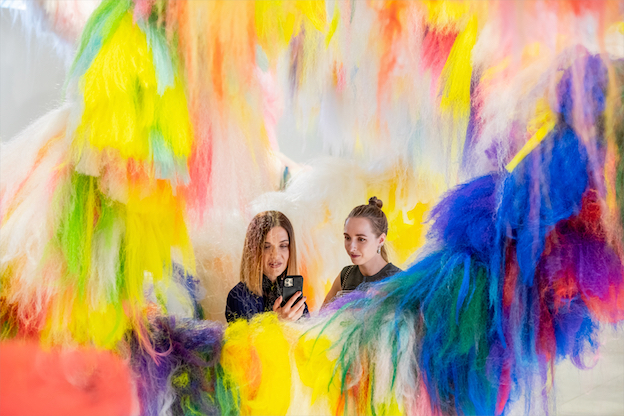 Popular Icelandic artist Shoplifter's new solo exhibition 'Hyperweb' has opened at Kai Keskus in Noblessner. The unique exhibition which combines synthetic hair and an Icelandic soundscape was created especially for the exhibition space at Kai.
Reykjavik-based artist Hrafnhildur Arnadóttir known popularly as Shoplifter, who calls herself a color maximalist, has created a unique multicolored installation for the Kai space using synthetic hair – her signature material. The soundscape for the exhibition has been created by Icelandic musician and talented theremin player Hekla.
The exhibition ´Hyperweb' will be on display until November 26.
It is also possible to book a personal tour at Kai Keskus in English and Russian, by emailing info@kai.center.
Open-air cinema 'Kai välikino' to open in July
The open-air cinema operated by art house cinema Kino Sõprus will be showing a range of movies in July and August in the outdoor area next to Kai in front of Proto Discovery Centre's café. The program has been prepared in cooperation with the Institut Français and the Goethe-Institut. The diverse program includes film classics, educational documentaries, top domestic film creations, and a retrospective of Jean Luc Godard.
To learn more about this and similar topicsArt Exhibition Hrafnhildur Arnadóttir Kai Keskus Kino Sõprus Noblessner Shoplifter