Kloogaranna beach voted best community facility in Harjumaa
Text Mark Taylor
Photo Argo Viikvald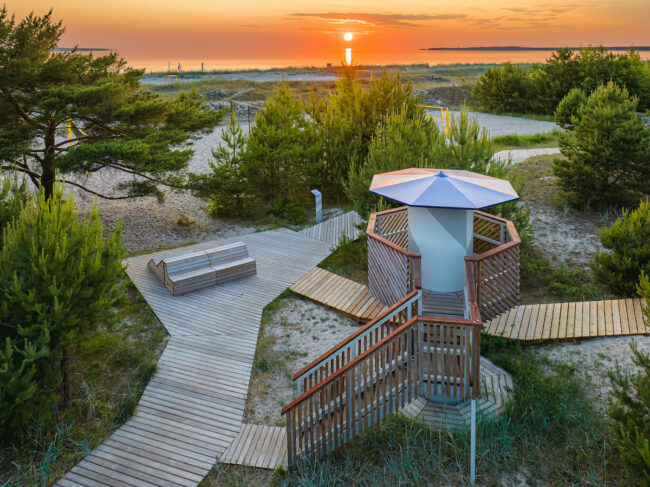 The Kloogaranna beach area, which has seen major redevelopments over the last couple of years has been awarded with the title of best community facility in Harjumaa. With the association of municipalities who made the decision stating that it stood out as the most beautiful facility this year.
"Kloogaranna beach was already a popular bathing area and place to go in the 19th century. Here, there is a kilometer-long sandy beach lined with pine forests. It is also conveniently located in terms of transportation – you can get here by bus, train, car or bike, not to mention walking. Efforts and hard work have paid off – today Kloogarannna beach is once again one of the most popular beaches, which is a source of pride for both locals and summer visitors," said Jaanus Saat the head of Lääne-Harju municipality, where Kloogaranna is located.
Renovations at the beach, which was also popular during Soviet times, began in 2021 with the building of a network of wooden boardwalks, seating areas, changing cabins, a children's playground, and beach sports facilities. A second phase of building works are also underway which will see a parking lot reconstructed, more playground attractions for children, as well as extended areas of boardwalks, and more sports fields.
"In the development of Kloogaranna, we have kept in mind that there would be activities here all year round, not just in the summer. In this way, the locals can walk along the boardwalks and find places to rest in the shade of the dunes also in other seasons, as well as use the children's playgrounds," added Saat.
Source Postimees
To learn more about this and similar topicsBeach Forest Harjumaa Kloogaranna Kloogaranna Beach Lääne-Harju Municipality Summer