Estonian gastronomy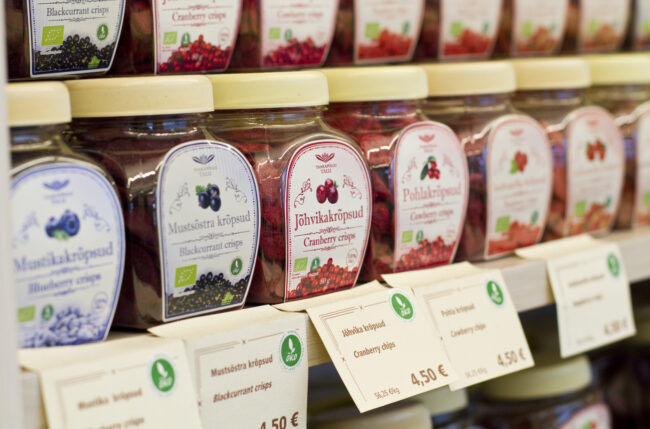 Estonian gastronomy
Where to buy:
Visit Hää Eesti Asi for these products and much more. Viru 23, Tallinn Old Town.
* Olde Hansa Onion Jam – Packed in an ornamental clay pot, this jam goes well with sausages and pork. 15.50€, 600g.

*
Pädaste Gourmet Muhu Hazelnut Honey
– Estonian honey infused with hazelnuts and cranberries, straight from Muhu Island. 7€, 250g

* Võhu Rhubarb Wine – This semisweet fruit wine is an excellent aperitif. Serve chilled on a hot summer day. 12% alc/vol. 9€ 500mL.


* Sea Buckthorn Liqueur – This little orange berry is a prominent ingredient in modern Estonian cooking. Its liqueur is not too sweet, as the berry itself is quite sour. Enjoy as an after dinner drink. 17% alc/vol. 8.90€ 500mL.

* Dried Fruit Crisps – These chips are made with organic freeze-dried fruit. They make an excellent addition to muesli, or eat them on their own as a snack. Assorted flavours including: cowberry, raspberry, strawberry, blueberry and mixed berry. 4.50€ 80g.
* Fir Shoot Syrup – Made from fir shoots, this sweet pine-tasting syrup adds a little bit extra to meat marinades. Add a spoonful to hot tea to help fight that winter cold. Fir shoots are rich in vitamins. 3.20€ 180mL.

* Artisan Estonian Chocolate – White chocolate with hemp, dark chocolate with green tea and mint, white chocolate with sea buckthorn, dark chocolate with lemon and rose… need we say more? 6.30€ 95g.

Visit Sadama Market
The Sadama Market located in Tallinn's Port district is open again in time for spring! Sample great Estonian foods by local producers and farmers. Open daily from 8 – 19.
Location
Sadama Turg, Sadama 25-4 Tallinn
TEXT: KRISTINA LUPP, PHOTOS: ANDREI CHERTKOV
To learn more about this and similar topics