Estonian Fashion on the Rise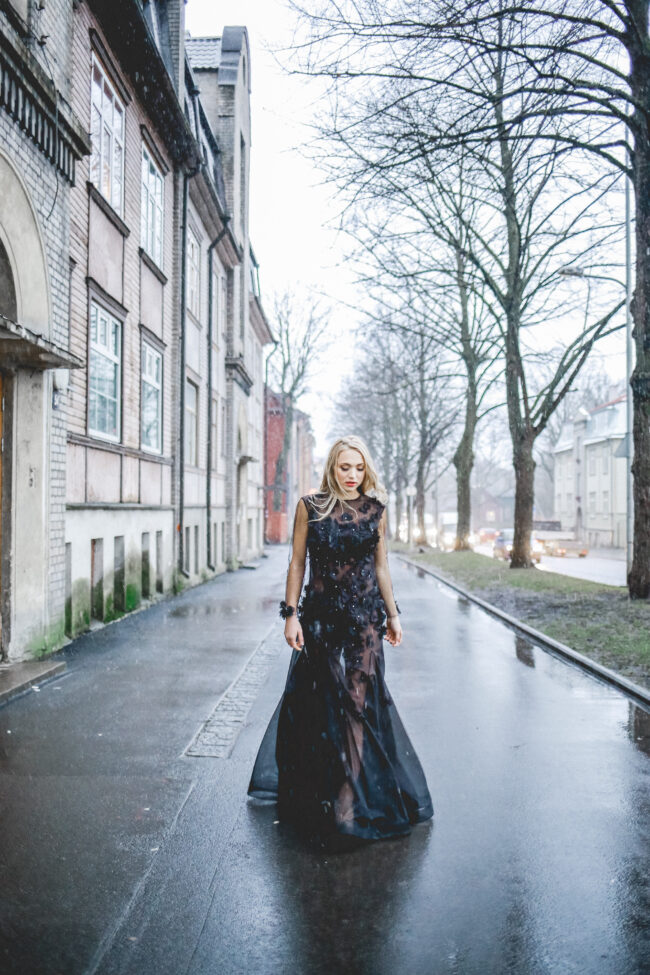 When you think of Estonia, you don't necessarily think of its fashion designers, however there are many labels that, if you're a lover of good clothes, you should take a look at when you visit Tallinn. Some of these are small, one-person companies, and some are international labels with growing reputations, but what they all have in common is a unique approach to design and creativity. You might suspect that Estonian fashion is not easy to find or buy, especially given that many Estonian brands in major shopping centres have been replaced with international ones – but it's still simple to seek out great clothes, whatever your budget.
Perhaps Estonia's best-known and most successful brands are those under the Baltika umbrella; these include Ivo Nikkolo, Monton, Mosaic, Baltman and Bastion. Each of these manufacturers takes different styling cues, with Monton, for example, generally being considered a young, fun brand, with bright colours prevailing along with slim cuts to the company's men's and women's collections. Mosaic, similarly, is for the young at heart, while a label like Ivo Nikkolo or Baltman aims to appeal more to the well-heeled man or woman about town, who perhaps is already well-established in a profession.
Baltika clothing may have left Viru Keskus, but Monton can still be found in the Kaubamaja department store or across Tammsaare Park in Solaris, while there are Monton and other Baltika shops in the Kristiine, Rocca Al Mare and Ülemiste shopping centres. However, for the full view of incoming and outgoing collections, including some eye-catching designs you might not find elsewhere, head to Baltika Kvartal, on Veerenni 24, the central office of the parent company, and also the home to a massive space over several floors, all designed with the customer in mind. The profusion of fitting rooms, all clearly labelled, along with the distinct branding of each section of shop, ensures this is a retail experience it's possible to enjoy.
Kätlin Kikkas has worked for Baltika in the past as one of the creative minds behind the look of the company's stores, but she is now making waves of her own as the woman behind KÄT Design, which focuses on fun uses of natural fabrics, with eye-catching patterns often coming into play. Having styled the 2016 Estonian Eurovision contestant Jüri Pootsmann, Kikkas is clearly a young person with an eye for classic, clean lines, but her clothing also shows a keen attention to detail. Stop by at KÄT's showroom, on Telliskivi 60a, third floor – it's appointment-only, but the designer will be glad to hear from you, either by calling +372 55545537 or emailing kat@katdesign.ee.
Another up-and-coming designer who made her name at Baltika is former Monton head women's designer Piret Puppart, who runs her own womenswear label, Uschanka. Puppart has a fascination with the cultural and social history of the Finno-Ugric peoples, something she feeds both by working as a lecturer at the Estonian Academy of Arts, but also by taking regular trips to far-off villages and towns, in order to get closer to her own ancestry. This interest is reflected in her imaginative collections for Uschanka, which seem like the perfect balance between past, present and future, with elaborate classic patterns meeting strong, bold colour statements. Several of the guests at the President of Estonia's Independence Day Ball wore Uschanka, in a great endorsement for a new label. If you want to see for yourself what Uschanka stands for, you can try on, and buy, the latest collection at Zero Boutique, which is in Baltika Kvartal.
Aiming squarely at the young, fun and upwardly-mobile is two year-old Tallinn-based label Kokomo. The company produces excellent-quality fabrics, which would compare well against anything you'd find in other stores. Among my favourites are the overcoats, in either bright pastel colours or more restrained greens, browns and greys; they achieve the essential objective in the Baltics of keeping the wearer as stylish, and as warm, as possible. I used Kokomo coats with Uschanka tops and dresses for a recent photoshoot with emerging Estonian pop group ky!, taken by Anneli Loorits – the interview with the group, and pictures, can be seen on my website, charmoffensive.ee. Kokomo clothing can be found in Watch Wear, in the Solaris shopping centre, Estonia Pst 9.
Sometimes, the aim is just for a woman to look as elegant as possible, to be the belle of the ball. For these occasions, there is an Estonian fashion label which has spread its influence to the glitziest corners of Europe. The beautiful people of Monaco's bars, clubs and casinos have been photographed wearing Gerli A. Chantelle, the dresses produced by Tallinn and Tartu-based designer Gerli Chantelle Põldoja. They're most definitely items for making a statement, with mesh and lace used often – but although this is a key identifier for Gerli A. Chantelle's clothing, you will find dresses for any party or function, whether you want to be sexy, classy, or sassy. Another recent photoshoot, with Estonian figure skater Johanna Allik, taken by Anete Palmik, gave me a chance to get a closer look at the most recent Gerli A. Chaltelle collection. Make sure you take a look for yourself, at Suur-Karja 13 in the Old Town.
Estonian fashion is full of fun, and full of new ideas. Why not take a look for yourself? 
Click on the address to see the location.
TEXT STUART GARLICK, PHOTO ANETE PALMIK
To learn more about this and similar topics