Estonian animal of the Year 2023 – Flying squirrel
Text Mark Taylor
Photo Uudo Timm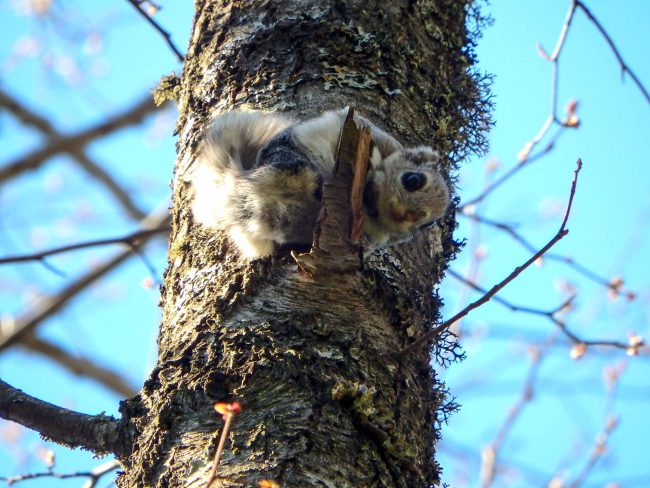 The endangered flying squirrel, which is a barometer for the health of many forest species has been announced as the Estonian animal of the year 2023. It is hoped that the year will introduce people to this rarely-seen and mysterious species.
The flying squirrel (or lendorav in Estonian), is a native species of north-east Estonia. Due to its nocturnal lifestyle, it is usually active when people are not in the forest. At the same time, when it exits its nest, it often disappears into the canopy and further into the forest, making it hard to find even with a tracking device. When you add that its coat blends in perfectly with tree bark and lichen, very few of us have seen it in the wild.
The reduction in habitats and the fragmentation of these over the last century have left the species endangered and only located in small isolated groups.
"The habitats of flying squirrels are old mixed forests with hollow aspens, where hundreds of other, often less noticeable, endangered and protected species live together with flying squirrels. By protecting the habitats of flying squirrels, other old-growth forest species are also guaranteed the preservation of their habitat. Using the terms of forest management, however, these forests are ripe for felling, and thus there is an inevitable conflict between the need to preserve flying squirrel habitats and the interests of the forest industry, resulting in a classic situation where the species becomes a scapegoat that hinders the so-called "economy," explained Tiit Maran, a member of the Estonian Theriological Society.
Maran went on to state that, on the contrary, flying squirrels can be an indicator for evaluating forest management practices.
The Estonian animal of the year has been selected since 2013 under the leadership of the NGO Aasta Loom (Year Animal), the Estonian Nature Conservation Society, the Estonian Hunters' Society, Tallinn Zoo, Private Forest Centre, the Estonian Theriological Society, and the Estonian Nature Museum.
The official ceremony marking the year of the flying squirrel will be held at Tallinn Zoo on February 15.
Source Delfi
To learn more about this and similar topicsAnimal of the Year 2023 Estonian Animal of the Year 2023 Estonian Forest Estonian Theriological Society Flying Squirrel Nature Conservation Tallinn Zoo