A 380-year-old pine is Estonia's Candidate for the European Tree of the Year Competition
Text Timo Huttunen
Photo Ingmar Muusikus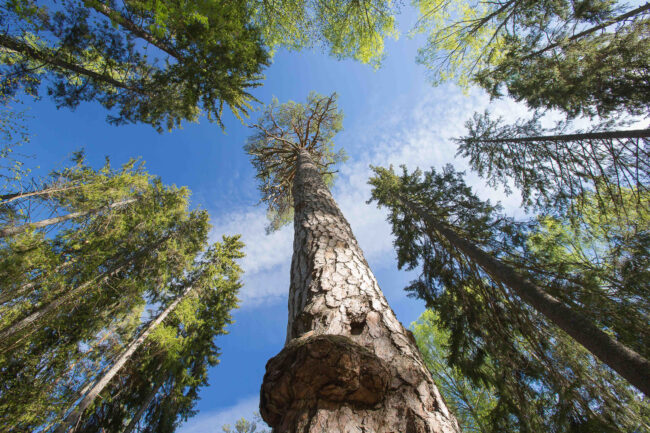 Estonia's candidate for the 2022 European Tree of the Year Competition is a 380 year old pine tree. The tree, called the King Pine, began to grow at about the same time as the founding of the University of Tartu.
Naturalist and explorer Hendrik Relve emphasizes the proportions and cultural value of the tree. "Currently, the 380-year-old tree is the largest tree in Estonia by volume. The volume of the trunk is 13 cubic meters. There are taller and thicker trees in Estonia, but the special value of this pine is related to forestry education", explained Relve.
Hendrik Relve recommends the exciting nature trail in Järvselja village to those who have not yet seen the majestic pine tree that is located in the municipality of Kastre in Tartu County. "The Järvselja nature trail runs next to this tree. There is also a primeval forest along the trail, which is the oldest forest protection area in Estonia", Relve further explained.
The forest has not been felled for almost a hundred years. Dead or wind-felled trees have also not been removed. The forest is an authentic example of an Estonian primeval forest.
Along the nature trail you will also find the highest spruce trees in Estonia, which are over 40 meters high. The trail is partly on wooden boardwalks.
The aim of the European Tree of the Year competition is to highlight trees worthy of protection that have played a significant role in communities and cultural history.
To learn more about this and similar topicsEstonia's largest tree Estonian Forest Estonian Nature European Tree of the Year Järvselja nature trail King's pine pine primeval forest