Working international students and graduates contributed over 22 million euros in tax to Estonia in the previous academic year
Text Mark Taylor
Photo Andrei Chertkov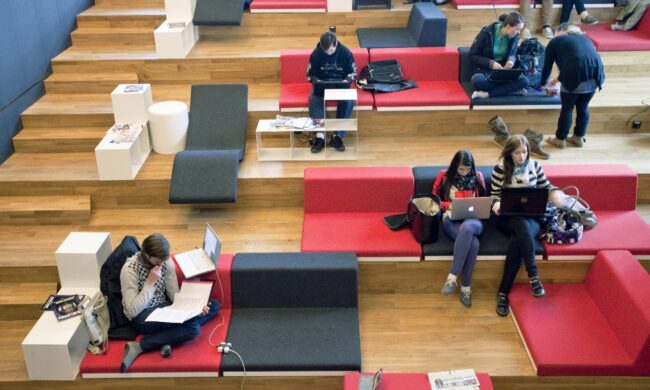 An analysis carried out by Statistics Estonia on the academic year 2021/22, has discovered that international degree students contributed 14 million euros and international graduates over 8 million euros in taxes. The number of international graduates who stay to work in Estonia after graduation has also increased significantly in recent years.
"Slightly more than half of international students (about 2,400) worked at least one day in Estonia during their studies in the previous academic year. It should be noted that international students do not work just a few days a year. Both local and international students who work are usually employed for longer periods, that is, for more than 90 days," explained Kadri Rootalu, a data scientist at Statistics Estonia and the author of the analysis.
In the academic year 2021/22, international students and graduates contributed a total of 22.4 million euros to the Estonian economy. International students paid 9.4 million euros in social tax and 4.6 million euros in income tax. Students who graduated in the academic year 2020/21 and stayed to work in Estonia contributed 8.4 million euros in labour taxes.

The most likely workplaces for international students during their studies were in information and communication technologies (ICT), engineering, manufacturing, and construction, as well as business, administration and law. For example, three-quarters of international ICT students worked during their studies in the academic year 2021/22.
The share of international graduates staying to work in Estonia has also increased significantly in recent years. International graduates contributed the most to companies working in information and communication technologies, followed by manufacturing, finance and insurance. Most of the international graduates worked in companies based in Tallinn.
"The economic contribution of international graduates in Estonia increases steadily each year. It has been one of the goals of our activities to have more motivated international graduates who stay in Estonia after graduation and offer their expertise on the Estonian labour market. However, the state should find ways to make sure that all counties benefit from the contribution of international graduates. The analysis clearly shows that, at the moment, mainly only enterprises in Tallinn and Harjumaa are benefitting from international graduates," said Eero Loonurm, head of the Study in Estonia programme at the Education and Youth Board, who commissioned the analysis.
To learn more about this and similar topicsEngineering International Graduates International Students International Students Estonia Statistics Estonia Study in Estonia Working in Estonia Working in Estonia as an International Student