Wining and Dining in the Old Town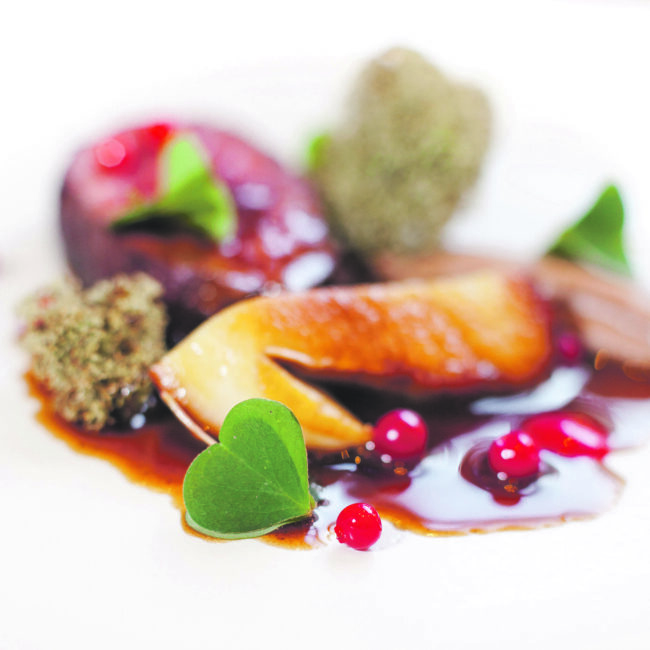 We asked Tallinn locals what their favourite places to eat and drink were in the most touristy area of town. Here's what they said:
Ancho
Müürivahe 17, Tallinn Old Town
www.ancho.ee
The stuffed jalapenos are a must, especially if you like spice. The chillies are stuffed with melted cheese, battered and fried, and served with sour cream. Wash it all down with one of their Mexican beers or a margarita. Check their Facebook page for daily specials.
Art Priori
Olevimägi 7, Tallinn Old Town
www.artpriori.ee/et/
Art Priori aims to combine art and food, though the food is a work of art itself. The balance of flavours is well-executed and the menu is creative and unique. Between the beautiful interior, professional and friendly service, semi-open kitchen to watch all the action, and of course the creative menu, Art Priori is a dining experience recommended and well worth the splurge.
Chakra
Bremeni Käik 1 / Uus 19, Tallinn Old Town 
www.chakra.ee
This is the best option for Indian in Tallinn. It's located in Tallinn's Old Town in a tiny passageway. The three dining rooms are richly decorated with bright fabrics that hang from the ceiling. The menu is long, offering everything from veggies to seafood, chicken and lamb. And best of all: spicy means spicy.
Chedi
Sulevimägi 1, Tallinn Old Town
chedi.ee
If you're in the mood to splurge for a fancy meal, Chedi is the place to go. The modern interior welcomes guests into an exotic and intimate setting for a meal to remember. Try the fried squid and the pork ribs. Every dish is beautifully plated and perfect for sharing.
Golden Dragon
Pikk 37, Tallinn Old Town
www.goldendragon.ee
If you are craving lemon chicken, and other fried Chinese favourites, this is the place to come. This cheap and cheerful Chinese restaurant is located in a cellar in the Old Town; go to the back of the restaurant for a cosy booth.
Babulja
Pärnu mnt 2, Tallinn Old Town
babulja.ee
Babulja is not your ordinary Russian restaurant. The atmosphere is casual, with friendly and chatty servers eager to talk about the food and make suggestions, especially when it comes to their signature cocktails. While tourists may see Babulja as another Russian restaurant, the concept here is different. It's a steakhouse with Russian hospitality.
Karja Kelder
Väike-Karja 1, Tallinn Old Town
www.villemipubid.ee/karja-kelder/
Karja Kelder offers cheap filling pub-style meals, incorporating Estonian and British cuisines. The atmosphere is jovial, with traditional Estonian folk and drinking songs playing on repeat.
Kompressor
Rataskaevu 1, Tallinn Old Town
kompressorpub.ee
Kompressor is an institution among locals and tourists who flock there for the perfect morning-after meal to cure any hangover. Kompressor is known for its massive pancakes that come stuffed with savoury or sweet fillings.
Leib
Uus 31, Tallinn Old Town
www.leibresto.ee
Leib Resto ja Aed is the dream of sommelier Kristjan Peäske and chef Janno Lepik,two friends turned restaurateurs. Their love for good food and good wine can be seen in the restaurant's seasonal menus, and the ever-changing wine list. All of Leib's raw ingredients come from local farms and producers, the majority of which are organic too.
Kuldse Notsu Kõrts
Dunkri 8, Tallinn Old Town
www.facebook.com/KuldneNotsu/
Step into this cosy little inn, in the heart of Tallinn's Old Town. At Kuldse Notsu Kõrts, be sure to try the sausage feast. And what a feast it is! The platter includes different kinds of sausages with potatoes and sauerkraut. To drink, try a pint of the house ale.
Georgia Tavern
Rüütli 18, Tallinn Old Town
www.facebook.com/GeorgianTavernTbilisi/
Georgian Tavern Tbilisi is a favourite. A meal at this restaurant is more like a family meal at home. Choose a few dishes to share. While the portions may appear small, they are filling. The cheese hachapuri (melted cheese in flatbread) is a good start. A favourite is the hinkali (meat dumplings), which you pick up at the top and eat from the bottom, trying not the spill the liquid inside. The pork sashlik (grilled meat skewers) is cooked well and served with a tomato dressing; the lamb chops have to be this writer's favourite!
Rataskaevu 16
Rataskaevu 16, Tallinn Old Town
rataskaevu16.ee
Rataskaevu 16 is one of the top restaurants in Tallinn on TripAdvisor and it's not just the good food, but the truly superb service that makes this place great. And to deal with the crowds, they've opened another restaurant just around the corner, serving the same menu. Check their Facebook page for daily lunch specials and be sure to make a booking.
Ribe
Vene 7, Tallinn Old Town
www.ribe.ee/et/
Slovakian chef Radoslav Mitro runs the kitchen at Ribe. His cooking style encompasses the simplicity of local seasonal ingredients, and incorporates elements of classical French and Nordic cuisines. Named one of Estonia's best restaurants, come for a great meal without too much of a splurge.
Schnitzel Haus
Rüütli 28, Tallinn Old Town
schnitzelhaus.ee
If you're in the mood for some great schnitzel, this is the place to come. Tucked away in the corner of the Old Town, enjoy different kinds and different sized schnitzels and wash it down with one of their draught beers.
Tigu
Pikk 30, Tallinn Old Town
www.tigukohvik.ee
This popular Mediterranean seafood restaurant has moved around Tallinn, living in many locations over the past few years. Now you can find them in the Old Town on Pikk Street, where you can enjoy mainly seafood dishes inspired by Mediterranean cuisines. Go there for some tapas and share a bottle of wine, or for a full meal.
Hell Hunt
Pikk 39, Tallinn Old Town
www.hellhunt.ee/est/hundi-staap
This is probably the most famous pub in Tallinn among visitors, and it's certainly the most likely to be full on a weekend night. If you can find a table, you'll have a great time, the place feels warm and inviting, the beer list has enough variety to keep you interested, and live sports matches are shown on the screen.
August
Väike-karja 5, Tallinn Old Town
www.facebook.com/kohvikaugust/
The mix of modern and retro make this a cool spot to visit in the Old Town. They've just expanded their menu to include an all-day breakfast and a la carte menu in addition to their fabulous desserts, pastries, and coffee.
Kehrwieder
Saiakang 1, Tallinn Old Town
www.kohvik.ee
Located right off the Town Hall Square, Kehrwieder must be one of Tallinn's cosiest cafés. The low ceilings and the dim lighting add to this ambiance. Delicious cakes are on display, and the coffee is some of the best in town. Across the street you can smell the coffee roasting in the Kehrwieder roastery.
Gelsomino
Lai 2, Tallinn Old Town
www.facebook.com/Gelsominorestoran
While the menu at Gelsomino has a great selection of classic Italian dishes, it's the pizza you must try. It's a true favourite among locals, and some say the best pizza in town.
Ehe Maitse Gurmee Vinoteek
Mündi 3, Tallinn Old Town
www.facebook.com/EHE-Maitse-Gurmee-Vinoteek-666481700033331/
Enjoy a glass of wine and a small snack at this great little Italian wine bar. Located just off the main square, Ehe Maitse also serves of great lunch specials like different types of pasta. Great food and great prices – a hidden dining secret among locals.
Korsaar
Dunkri 5, Tallinn Old Town
www.korsaar.ee
This pirate-themed restaurant may seem a bit absurd in the middle of a medieval Old Town, but ignore this, go inside, and get ready for some great seafood. Prices are on the higher end, but service was good and so was the food.
Troika
Raekoja plats 15, Tallinn Old Town
troika.ee
This long-running Russian restaurant expanded last year to cater to the ever-growing demand for authentic Russian food, drink, and service. The walls and bright interior are luxurious, but in no way excessive. The authentic Russian food is well known at Troika and the service is theatrical. Think: waiters pouring vodka shots from high up.
Texas
Pikk 43, Tallinn Old Town
www.texas.ee
This American-style honky-tonk bar with low lighting, all-wooden interior, and a soundtrack that covers the entire narrow musical spectrum from Johnny Cash to Neil Young and back has been open for years. Try the bar's burritos and tacos and wash it all down with an excellent margarita.
OZO
Vana-Viru 13, Tallinn Old Town
ozo.ee
Recently opened, OZO is a modern Japanese restaurant serving sushi, as well as some wonderful non-fish dishes. The interior is sleek with a compelling living wall one side. Check their Facebook page for very affordable lunch specials. 
Click on the address to see the location.
TEXT KRISTINA LUPP, PHOTOS ANDREI CHERTKOV
To learn more about this and similar topics