What's on at KUMU This Autumn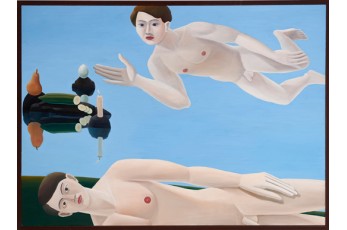 There's plenty to grab your attention if you pay a visit to Estonia's museum of modern art, KUMU, in the Kadriorg area of Tallinn. This autumn you have a choice of a series of ongoing exhibitions, or special displays that will only be there for a short time. Whatever you choose, you're sure to learn something you didn't expect to.
We begin our look at KUMU with one of the best permanent exhibitions at the museum, "Difficult Choices: Estonian Art from the End of the Second World War to Re-Independence." In spite of the slightly foreboding title, this is a display that will show you not only how Estonian artists compromised their vision during the Soviet occupation, but how they used subtle humour and in-jokes in order to find joy amid the difficulties being suffered. There are many poignant memories of a time Estonia seeks to remember in order to move on from.
For a different take on the power of art, head to a new temporary exhibition, "Saga. Iceland: Art & Narrative," which focuses on narrative art – that is, art that tells a story. It does so because of Iceland's rich storytelling tradition, going back many centuries, and currently spanning 1,000 new releases a year from Icelandic publishing houses, according to KUMU, in spite of the rocky island only having below 300,000 native speakers. Running from now until 20 March 2016, this promises to open your eyes to the culture of a nation much-loved for its individuality.
For an edgier, stranger view of the world, you need to look at the exhibition of paintings by Concordia Klar and Peeter Ulas, two Estonian artists who are considered among the founders of a surrealist movement still going strong in the Baltic nation. You'll definitely experience all kinds of new emotions looking at the surprising early drawings of these unconventional artists. The exhibition runs until 31 December.
Location
Weizenbergi 34 / Valge 1, Tallinn
TEXT STUART GARLICK, PHOTOS KUMU, ANDREI CHERTKOV
To learn more about this and similar topics