Vivian Vau encourages women to use colours boldly
Text Susanna Poikela
Photos Andrei Chertkov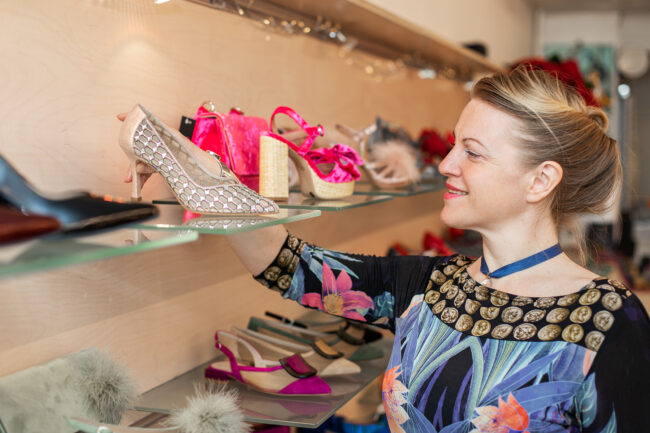 Shoe designer Vivian Unt's love for shoes has lasted for almost twenty years.
The queen of the shoe world
Vivian Unt, the creator of the Vivian Vau brand, gets her inspiration from people, life and the little details.
Her love of detail and colour is also evident in her shoes – they are colourful and full of personal touches.
The shoes tell the story of their wearer, which can be enigmatically beautiful and playful. "I always encourage women to wear colours more boldly. There are enough black shoes, and since colours affect our mood, why not choose vivid colours. Our feet carry us in life, so shoes should be comfortable, of high quality and beautiful," says Vivian.
Vivian Vau shoes are available in sizes 33–45. Prices range from 100 to 160 euros. Many customers love these shoes so much that you could even say that all roads lead to Vivian. And, no wonder, they are in a class of their own in terms of beauty.

The favourite colour so far this summer has been yellow
Ridikyl can be found in Foorum Keskus shopping center in the heart of Tallinn. The collection of fashion designer Evelin Talts focuses on women's dresses and accessories. The range is available in sizes 34-50, and only a limited number of each design are made.
Ridikyl also accepts tailor-made work, the price of which remains within the prices of the store's products. "The most popular colour this spring has been bright yellow. In addition, dark blue and pink have been sold quite a lot," explains salesperson Siiri Poola.
The reputation of Ridikyl has also gone beyond Estonia's borders. "Finnish customers will regularly check out what's new in our collection," says Siiri. Pockets have been added to many of Ridikyl's dresses, which pleases many customers. Prices range from 55 to 130 euros. The shop also has Italian leather bags and jewellery.
Vivian Vau, Kuninga 1, Tallinn.
Ridikyl, Foorum-keskus, Narva mnt 5, Tallinn.
To learn more about this and similar topicsDresses Fashion Foorum Keskus Ridikyl Shopping Vivian Unt Vivian Vau Vivian Vau Shoes