Vanemuine Theatre end-of-year ball returns after 3-year absence
Text mark Taylor
Photo Heikki Leis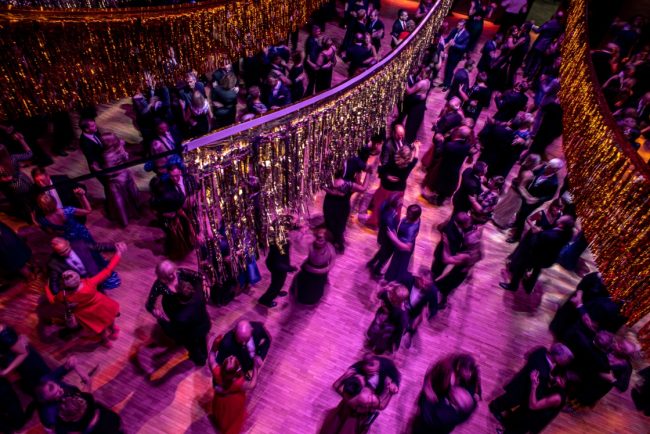 The traditional Vanemuine Theatre end-of-year ball in Tartu returns this year on December 30. This is the first time it has been held since 2019 because of the pandemic. Visitors will get to see various performances by the artists of the drama, ballet and music departments of Vanemuine.
"At the beginning, when making plans for the ball, we were afraid of what kind of impact the two years forced break would have on our audience. The joy is all the greater knowing that the end-of-the-year ball has still been well received, there will be a large audience in the hall and we promise that there will be a grand and cheerful end-of-the-year celebration. We are waiting for you all because there is still room," said Vanemuine Theatre director Kristiina Alliksaar inviting everyone to the year-end ball.
The end-of-year ball takes place in parallel in the main building of the Vanemuine Theatre and in the concert hall. The Vanemuine Symphony Orchestra, conducted by Taavi Kulli, will open the ball in the concert hall. The dance will be performed by the band Funkify with Lauri Pihlap and Norman Salumäe, as well as the dance orchestra Estraadiraadio with Kaire Vilgats.
In the large hall of the Vanemuine Theatre, the artists of Vanemuine will perform short plays created only for that evening. The ballet troupe will present the dance performance "Violin Concert" by Georgia Tony Hyrkäs to the audience. Priit Strandberg's short play "Žanritrall" will be performed by drama actors, and the musical troupe will stage a piece called "Verona (mask) ball, an operetta-insult in one act based on W. Shakespeare, etc.", under the direction of Rasmus Kull.
The biggest end-of-year ball in Southern Estonia will end with hits from the golden age of Hollywood. Songs by Frank Sinatra and Marilyn Monroe songs will be performed by Lauri Liiv and Hanna-Liina Võsa, accompanied by pianist Johan Randvere.
The evening will be hosted by Vanemuine drama actors Lena Barbara Luhse and Ken Rüütel.
Tickets for the event are still available to purchase from the Piletimaailm ticketing portal.
To learn more about this and similar topicsBall Ballet music Tartu Vanemuine Vanemuine End of Year Ball Vanemuine Theatre