Two Finnair aircraft get a Moomin makeover to mark centenary year
Text Mark Taylor
Photo Finnair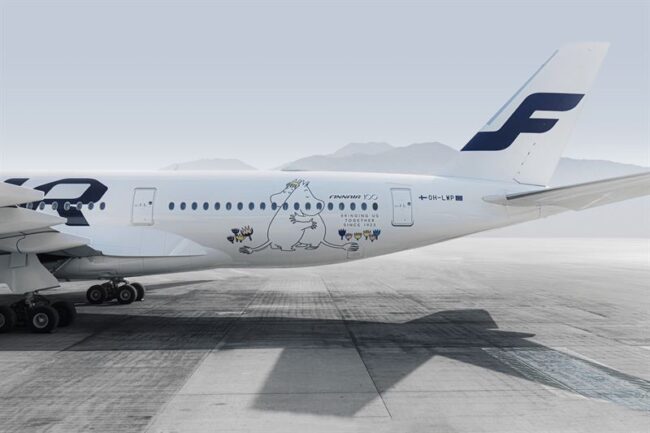 Finnair is turning 100 in November 2023. To mark the centenary year, the airline has changed the livery on two of its aircraft to feature beloved Moomin characters. The Moomin aircraft will fly to various long-haul destinations in Finnair's network, including the likes of Dallas, Tokyo and Bangkok.
The Moomins, which are one of Finland's most popular cultural exports, are adored by both adults and children alike. In Finland, the beloved books and cartoons are not just a big part of Finnish people's childhoods, but have grown to become an integral part of Finnish identity.
As such, Finnair has decided to add images of two Moomin characters to the livery of two of its Airbus A350 aircraft. These being the main character Moomintroll and his loyal friend Snork Maiden.
"Finnair's mission is to enrich life by bridging the world. This is also the theme of our centenary. The Moomins represent friendship, community and going on adventures together, so they are a great fit for our values," says Finnair's CEO Topi Manner.
This is not the first time the Moomins have featured on the livery of Finnair aircraft, having last featured back in the 1990s. In addition to the Moomin livery, Finnair has also painted the centenary slogan "Bringing us together since 1923" on three other aircraft.
As a little bonus, Finnair is inviting all Moomin and aviation fans to share photos and videos of the Moomin livery on Instagram with the hashtag #finnairmoomin. Finnair will reward one lucky content producer with two Business Class flights to either Tokyo or Helsinki. More information about the contest is available on Finnair's official website here.
To learn more about this and similar topicsAirline Finland Finnair Finnair Moomin Finnish Identity Moomin Moomins