Top 5 Estonian Souvenirs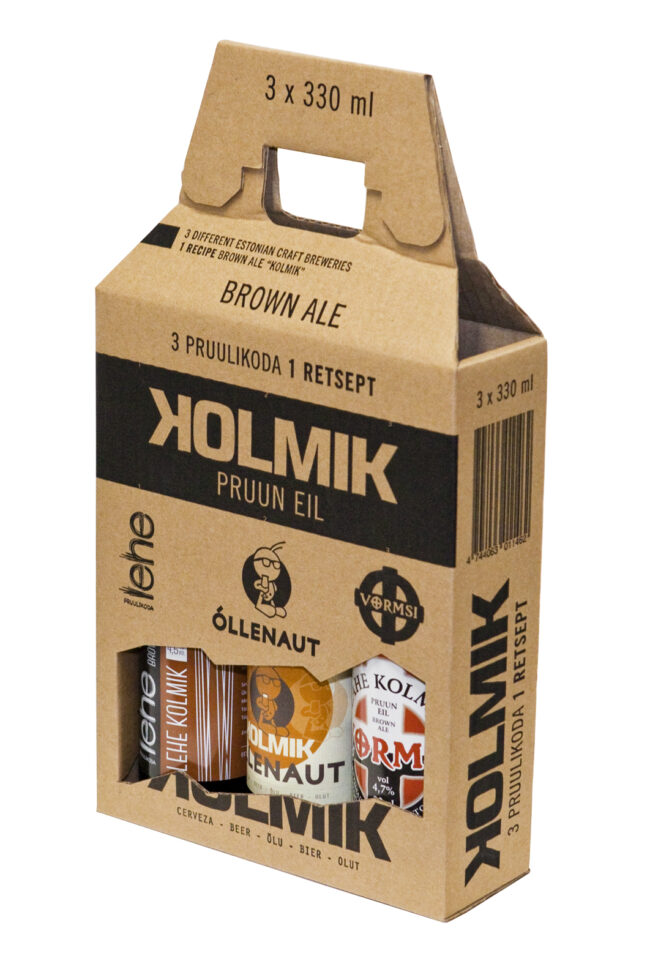 Top 5
Estonian Food Souvenirs
1. Locally-made chocolate: You're probably familiar with Kalev chocolates from Estonia, but did you know that there are quite a few smaller producers crafting artisan chocolates too. Visit MeGusto (Telliskivi 60, Tallinn) in-store or online where you can create your own chocolate bar.
2. Craft Beer: Did you know that there are over 40 craft breweries in Estonia? Claire Millard (estoniancraftbeers.com) says: "What's great about Estonian beer – the Brewers here have a wealth of influence from round the world to draw on. Being late to the party actually helps in that respect as so many styles have popped up elsewhere and the Brewers have done really well at watching trends and interpreting them in an Estonian way. So you see local ingredients like rye, juniper and spruce coming up a lot – most of the guys take their inspiration from nature and cuisine and it shows. That's what makes them unique – they take global trends and reinterpret them in a Nordic/Baltic/Estonian style. Brewers that stand out – Põhjala are the biggest and best commercially – they already export 50-70% of what they produce so they're taking Estonian beers to the world.
Apart from that Pühaste do great hoppy beers (Mosaiik is my favourite), and Tanker have moments of brilliance when they do something new. I don't like all their stuff but when they get it right they nail it (Sauna session is a good case in Estonian-ness)
3. Black bread: If you've been out to eat in Estonia, chance are you've already sampled some of this dark rye bread. With many restaurants and bakeries offering freshly made bread, it will be hard not to taste some.
4. Sprats (kilu): Take a piece of that black bread, smear it with butter, put a couple of slices of hard-boiled egg on it and then a sprat or two and you're in for a real treat. These tiny fish come preserved in tins, so you don't have to worry about them breaking apart in your suitcase.
5. Craft spirits: If you can have craft beer, then you can also have craft spirits. Estonians are making wonderful small-batch vodkas and gin, and more! Check the shelves of some of the smaller bottle shops and high end grocers. 
Top 5
Estonian Souvenirs
1. Knitwear: Although mildly itchy, the iconic Estonian wool sweater will keep you warm on those long, cold Estonian winter nights, as will the colourful mittens and socks.
2. Read about Estonia: My Estonia – Justin Petrone; Purge – Sofi Oksanen; Carrying Linda's Stones – Suzanne Stiver Lie, Lynda Malik, Ilvi Jõe-Cannon, Rutt Hinrikus; War in the Woods – Mart Laar; Sentence Siberia – Ann Lehtmets, Douglas Hoile; The Singing Revolution – DVD
3. Estonian Music: Check out some great Estonian bands like Curly Strings, TradAttack, Ewert and the Two Dragons, Kerli, Iiris, and Juri Pootsman, , as well as the famous composer Arvo Pärt.
4. Juniper: You'll know this wood by its very fragrant odour. Look for butter knives, tiny jewellery boxes, key chains, and trivets.
5. Estonian Design: There are some fantastic craftsmen and women out there creating beautiful clothes, jewelry, homeware, and more. 
Where to buy handicrafts, souvenirs, and other unique gifts:
Hää Eesti Asi, Aia 1 / Viru 23. Tallinn Old Town
www.facebook.com/heaeestiasi/

Estonian Handicraft House, Pikk 22, Tallinn Old Town
www.crafts.ee

A-Galerii, Hobusepea 2, Tallinn Old Town
www.agalerii.ee

Nu Nordik, Vabaduse väljak 8, Tallinn Old Town
www.facebook.com/Nu-Nordik-147088663521/

Tali, Kotzebue 33, Tallinn
https://et-ee.facebook.com/TaliDisain/

Estonian Design House, Kalasadama 8, Tallinn
www.estoniandesignhouse.ee

PHOTOS: ANDREI CHERTKOV
To learn more about this and similar topics