This evening, fires will burn along the shores of the Baltic Sea
Text Mark Taylor
Photo Ilja Tulit / Unsplash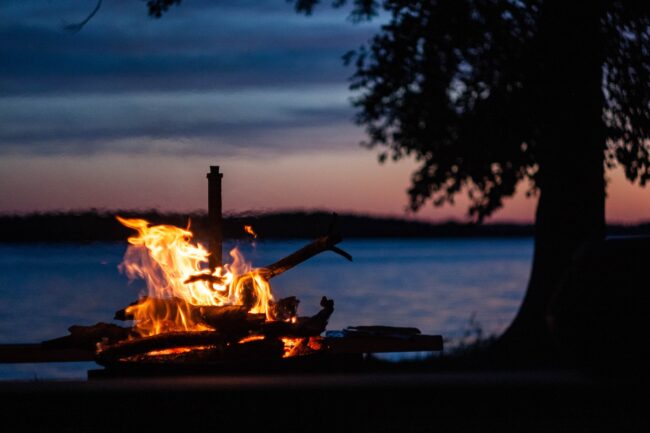 Every year on the last Saturday of August, the Estonian coast becomes aglow with the flickering flames of bonfires, marking the end of summer in a spectacular display. This ancient tradition of lighting bonfires and signal fires stretches beyond Estonia, creating a sense of unity throughout the Baltic Sea region, with countries like Finland, Sweden, and Latvia joining the celebration. In Estonia, the tradition extends beyond the coast as bonfires are also lit on the banks of inland waterways.
For centuries, signal fires have guided seafarers, providing a safe route to the shore and alerting them to imminent danger. This age-old practice can be traced back to Viking times. Today, apart from symbolising the changing seasons, the event serves as a poignant reminder of the importance of preserving the Baltic Sea, a precious natural resource.
To add to the festivity, concerts are held along the coast, typically free of charge, creating a vibrant atmosphere in ports and coastal villages. Many Estonians also create their own bonfires, igniting the night with warmth and laughter in their gardens or along the picturesque sandy beaches. As the sun sets, signaling the beginning of the evening, the bonfires are lit, casting a mesmerizing glow over the surroundings. The crackling flames dance in the darkness, creating a captivating ambiance that brings people and communities together.
The public bonfires are typically lit at sunset, around 9:00 pm. Whether you choose to attend an official bonfire location or create your own intimate gathering, the experience is sure to leave a lasting impression.
Beyond the fires, the event serves as a cultural celebration, honouring the rich history and maritime traditions of the region. It is an opportunity to reflect on the significance of the Baltic Sea and the collective responsibility to protect its pristine beauty for future generations.
You can discover all of the official bonfire locations on the Ancient Lights website here.
To learn more about this and similar topicsAncient Fires Baltic Sea Bonfire Coast Estonia Tradition VIKINGS