THE SUSHI FIX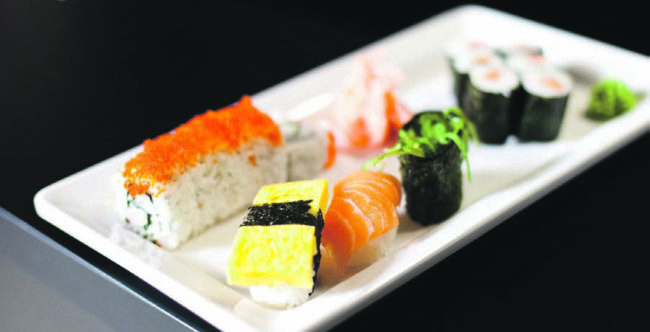 sushi, tallinn, estonia, sushi cat, silk sushi, sushi house, sashimi, maki, miso, nigiri
Sushi is by no means a new addition to the Tallinn dining scene. Sushi restaurants began appearing in the early 2000s, but many Japanese restaurants were already serving it before. At the moment there are two chain restaurants and a few independent restaurants that are serving it. Sushi House has three locations, and Silk Sushi, six. A familiar favourite is of course the fashionable Sushi Cat. Its dining room is so small, that it's almost always full. But don't worry, many of Sushi Cat's regulars often only come for takeaway. This isn't a bad idea of course, because if you're on a budget you can save a bit of money by taking it back to your hotel and picking up a few beers on the way.
This time we decided to try Silk Sushi on Kullasepa. From the outside, the restaurant seems more a stylish lounge than a restaurant. The low stools and tables give it an Asian feel, which suits the décor. To start, we tried the miso soup.
In Silk's miso soup there is an adequate portion of tofu and seaweed. It was flavourful and not too salty. For our sushi course we tried the Neptune set, which had maki, salmon nigiri, tuna, and scallops. There was a generous portion of pickled ginger and wasabi on the side as well. The fish was fresh, and the service was fantastic. It was a truly enjoyable meal. Silk doesn't have the lowest prices, but the quality is excellent.
The menu offers a large selection and there is sure to be something for everyone. For those that aren't keen on raw fish, there are many noodle dishes and other cooked foods to choose from. And don't forget the sake, of course!
Tallinn's sushi restaurants:
Silk Sushi Bars:
Kullassepa 4, Tallinn Old Town H1
Viru Shopping Centre, Viru väljak 4/6, B2
Rocca al Mare Shopping Centre, Paldiski mnt. 102.
Narva mnt 15, B3
Regati Maja in Pirita, Merivälja tee 1, Tallinn
Sushi House:
Solaris Shopping Centre, Estonia pst 9, B2
Rocca al Mare, Audi-maja, Vabaõhumuuseumi tee 3 / Mõisa tn. 4.
Rotermanni Kvartal, Rotermanni 5 / Roseni 10, A2
Sushi Cat:
Roosikrantsi 16, B2
TEXT: JUKKA ARPONEN, PHOTOS: ANDREI CHERTKOV
To learn more about this and similar topics