The summer season has arrived in Estonian gardens
Text Susanna Poikela
Photo Hortes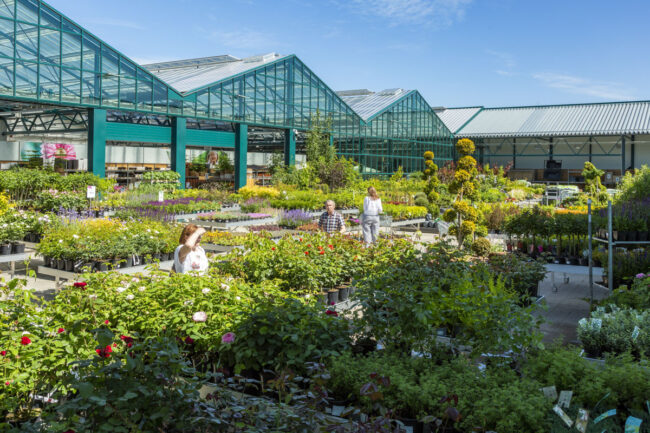 There are two Hortes stores in Tallinn, one of which is conveniently located along the Pärnu highway. "On your way to Pärnu, it's easy to stop by our store," advises Riina Ruus.
The small Japanese cherry trees blooming in warm pink only wake up when Hortes' gardeners start their work day. Little do they know that they are the most wanted fruit trees in the entire store. Riina Ruus, Hortes' marketing manager, sharing that decorative cherry trees and other fruit trees are typically bought in the spring.
In April, seedlings and early spring cold-resistant outdoor flowers were the most popular at Hortes. Spring flower boxes were also very popular. The season of summer flowers starts at the end of April and the time for hanging baskets arrives around Mother's Day. Rose peonies become the number one flower in June.
"The rose peony is very popular in Estonia. A lot of it is planted on graves," explains Riina Ruus. "Pelargonium is not as popular in Estonia as it is, for example, in Sweden, but yes, it is also sold steadily throughout the summer. Hortensia, which is popular in Finland, is also a garden flower that we keep. The Chrysanthemum time will come in July."
Potted potatoes and grasses are suitable for city homes
Gardeners open the large lift doors and sunlight fills the store. There are trays of potato seedlings next to three tables filled with cherry tomatoes of different colors. The latest craze is potted potatoes, which can be grown on a balcony or terrace. In the courtyard of the Hortes store in Tähesaju, there is a selection of different varieties of thuja that customers buy for their gardens in the spring. Hortes in Laagri has a larger outdoor store with a wider selection of trees and shrubs.
In recent years, grasses have become a trend. The last few summers have been warm in Estonia and the grasses can withstand the sun very well. Lavender varieties have also increased in popularity. So what is the long-term favorite of customers? "Biolan's black soil sells steadily all the time", laughs Riina.
Taking plants back to Finland (as well as other countries) as luggage
You can take cut and potted flowers, summer flowers, green plants and herbs from Estonia to Finland for your own use without restrictions. Seedlings intended for open ground should be bought from a professional garden store. This is because products come from controlled production, which minimizes the spread of possible plant diseases and pests. Markets may sell seedlings grown by hobbyists, where there is a greater risk of getting a diseased plant or pest in your garden. Bringing wildfire host plants (e.g. apple trees and pear trees) to Finland is only allowed if the Plant Passport – PZ Erwinia amylovora is affixed to the plant. Potato seedlings may not be exported to Finland at all, and must always be purchased in Finland.
If you are planning to take plants from Estonia to other nations in Europe or beyond, please check the laws in your own nation before making a purchase.
Garden centres and nurseries:
To learn more about this and similar topicsFlowers Garden Gardening Hortes Plants Potted Plants Summer