The most capable planetarium in the Baltics has opened in Tartu
Text Mark Taylor
Photos AHHAA Science Centre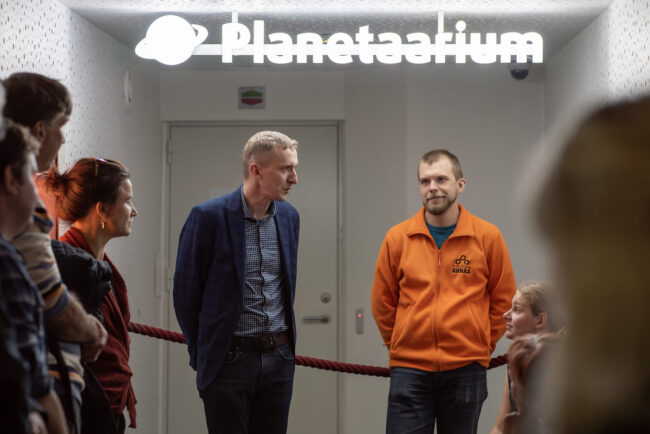 On October 23, the renovated planetarium at the AHHAA Science Centre in Tartu was reopened after renovation works. It is the most technically advanced in the whole Baltics.
The projection technology used has been improved, and the room renovated with new cinema seats and whitewashed walls. The entire project cost nearly 300,000 euros.
According to Üllar Kivila, chief planetarian of the AHHAA research center, compared to the old system, the new projectors have nearly four times more image points, or pixels, and the latest hardware allows traveling between planets with unprecedented speed and a more beautiful image.
"Renovating a planetarium is a very difficult job, because for the system to work, every little detail needs to be set with special precision – the projectors must all work in sync, the ceiling and walls must be impeccably smooth and of the same colour, and even thermal expansion due to the seasons must be taken into account. This is also why our planetarium has an almost flawless dome inside the sphere. Only seven millimeters separates the dome from an ideal sphere," Kivila said.
According to Andres Juur, chairman of the board of the AHHAA Science Centre, it was possible to find the builders of the sphere in Estonia, but the technology and software had to be sought all over the world.
"We organised an international tender, which was eventually won by the experienced company RSA Cosmos from France. The whole process took almost half a year of preparation and two months of construction and installation". According to Juur, the reopening of the planetarium is a big event for the science centre, as virtual space flights have been very popular among visitors since the beginning.
The planetarium has welcomed nearly half a million visitors since it was first opened back in 2011.


To learn more about this and similar topicsAhhaa Science Centre Planetarium Planetarium Baltics Science Space Tartu Virtual Space Flights