The end of the folk summer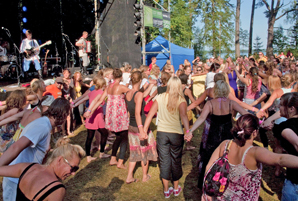 The end of the folk summer
Thanks to Viru Folk, the small town of Käsmu comes to life. For three days, thousands of folk music fans of all ages fill the town.
The seaside stage is filled with bands from Estonia as well as elsewhere. The festival's headliners include Canadian, Melanie Dekker, Atlantida, and Chupai Eli from Russia. Estonian performers include Marko Matvere & Väikeste Lõõtspillide Ühing, Dagö featuring Riho Sibul, and of course Zetod.
In addition to music, the festival will also feature films, poetry evenings, and nature hikes in the neighbouring areas of Käsmu. You won't go hungry either; there are plenty of cafés and even a great fish restaurant in town. There is even plenty to do for children.
It takes about an hour to get to Käsmu from Tallinn. Tickets can be purchased on-line from Piletilevi. A day ticket cost 22€ in advance, and a festival pass is 55€.
Location
Viru Folk
August 10-12, Käsmu, in Vihula county.
TEXT MIKKO VIRTA, PHOTOS VIRU FOLK
To learn more about this and similar topics