Tallinn's unique cafes and restaurants
Text The Baltic Guide working group
Photos Sandhra-Mirella Valdma,
Peet Ruut, Olde Hansa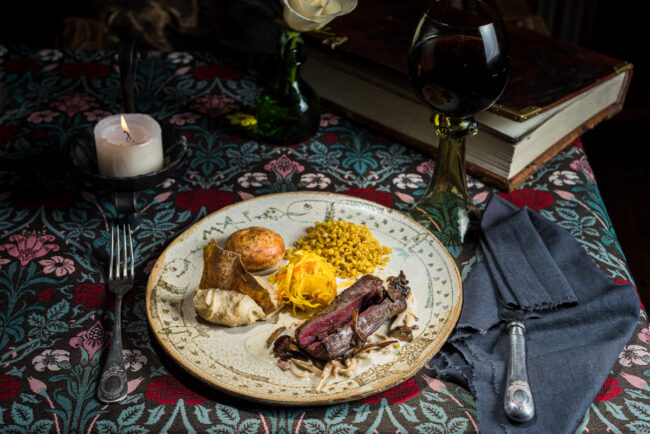 At Olde Hansa deer is served with a mushroom sauce.
A medieval restaurant set in the renaissance
The medieval restaurant Olde Hansa has entered a new era. Towards the end of the Middle Ages, the best chefs traveled to nobles and rich merchants. In addition, new exciting spices came from faraway countries. This is how new flavours spread across Europe. Now these exciting new flavours are also offered to guests at Olde Hansa.
"Through their trade routes, the Hanseatic merchants were connected to, for example, Venice and Paris, bringing with them new influences. We have renewed our menu to be more international. Of course, our old classic dishes are still on the list. In addition, we brought interior fabrics from Paris to Olde Hansa. Our plates, glasses, knives and forks have also been renewed", says Auri Hakomaa, the host of the restaurant.
One new dish is haggis served with a strong-flavoured smoked beer whiskey sauce. "This dish dares to challenge even the original Scottish delicacy," continues Hakomaa. Olde Hansa's version has received praise from the restaurant's Scottish guests.
The Baltic Guide tested the haggis and its mild taste of lamb and offal went perfectly with the strong sauce.
Other new dishes include, for example, "Veal cheek cooked in Sherry" and "Deer fillet with king mushroom sauce", which was mouth-wateringly good. To accompany the deer, you should order the recommended amarone wine.
Olde Hansa, Vana turg 1, Tallinn.

Organic restaurant Peet Ruut prepares food ethically
At first, Peet Ruut looks like a small restaurant, but the lobby offers a view of a narrow, high-ceilinged restaurant hall with a beautiful courtyard at the back, which will open in June.
Peet Ruut is tastefully decorated with natural materials. The inside is elegantly classic and casually cozy at the same time. Upstairs is a hall that can be booked for birthdays and various events. There is a third dining area on the basement floor. The restaurant has a total of 70 seats.
Peet Ruut's food is made from natural ingredients. "Our restaurant is one of the few certified organic restaurants. We order the raw materials from Ökosahver, for example. We source wines from seven small importers, and of course they are also organic or biodynamic," says restaurant owner Ethel Univer.
The menu is not classic either. For example, the restaurant does not serve steak with potatoes, but beef steak Petite tender is combined with a fermented tomato beetroot vinaigrette. Fish dishes follow the season and are bought from ethical fishmongers.
Peet Ruut, Rataskaevu 8, Tallinn.

An art cafe with plenty to do
The art cafe Kohvik Lummus can be found on the quaint Müürivahe street. Kohvik Lummus is not only a cafe, but also an art gallery and art center. Workshops are organised regularly in the cafe, which are run by the owner and artist Maire Valdma with her daughter Sandhra-Mirella Valdma. Maire has had a long career in the Estonian fashion and art world. Her art can now also be found on the walls of Kohvik Lummus.
The customer service in the café is friendly and a cozy courtyard is also open in the summer. What could be more atmospheric than enjoying a freshly roasted coffee or a refreshing beer in the twilight of a summer evening under the atmospheric courtyard lighting. Dogs are also welcome in the cafe.
Kohvik Lummus, Müürivahe 20, Tallinn.
To learn more about this and similar topicsArt Kohvik Lummus Medieval Olde Hansa Organic Peet Ruut restaurant Tallinn