Tallinn's lon gest runn ing restaurants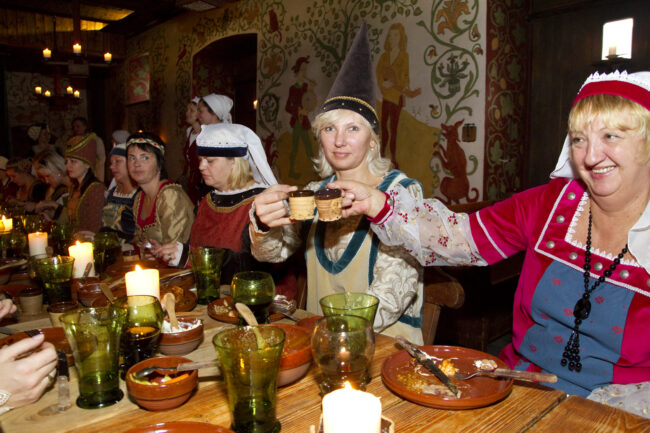 restaurant, dining, tallinn, historical, gloria, old town, olde hansa, troika, bonaparte, restrain steakhouse liivi, maikrahv
Gloria
Opened in 1937, this restaurant was once the grandest club in Tallinn. It has survived two occupations, and is still going strong under the management of chef Dimitri Demjanov. The elegant pre-war décor and impeccable service are reasons why Gloria is the restaurant of choice for visiting heads of state, and other important figures. The menu is a fine example of classic French cuisine, with little hints of Estonian and Russian influence.
Müürivahe 2, Tallinn Old Town
Olde Hansa
Tallinn's medieval past keeps visitors coming year after year to learn about its history. Olde Hansa restaurant is situated in the site of the old central market. Get a taste for the city's past, while dining in this truly unique restaurant. Under the same roof, is the medieval shop Krambude, where you can buy medieval clothes and jewellery, along with dishes, spices, and of course the famous sweet almonds, that can always be smelled roasting outside.
Vana Turg 1, Tallinn Old Town
Troika
This long-running Russian restaurant expanded last year with a new 40-seat banquet room to cater to the ever-growing demand for authentic Russian food, drink, and service. The walls and bright interior are luxurious, but in no way excessive. The authentic Russian food is well known at Troika and the service is theatrical. Waiters pour vodka shots from high up. The atmosphere is perfect for celebrations and large groups.
Raekoja plats 15, Tallinn Old Town
Bonaparte
Bonaparte celebrates its 15-year anniversary this year with a new chef, Vitali Tihhonov. Tihhonov has worked in some of the world's top restaurants, including Noma. The menu is very well put together, and the tasting menu gives a good overview of the new dishes. Presentation is very eloborate. Many of the dishes come bubbling with dry ice or decorated with pine branches. The waiters are skilled in trying to balance these elaborately placed dishes. Nevertheless, the taste of the food was spot on, especially the cep and truffle consommé.
Pikk 45, Tallinn Old Town
Restoran Steakhouse Liivi
Restoran Steakhouse Liivi celebrates its 18th anniversary this year. What keeps them in business year after year –excellent steak, with just about any sauce or topping you can imagine. Our favourites are: the Onion Coat, which comes with a mountain of fried onions and bacon; and the Buffalo Steak, with green peppercorn sauce. There are plenty of potato sides to choose from, but the garlic potatoes are be the best.
Viru Väljak 2, Tallinn
Restoran Maikrahv
Maikrahv is another medieval themed restaurant in Tallinn's Old Town, but the menu is a little bit more contemporary. Enjoy filling meals inspired by traditional Estonian cuisine and international dishes. The staff is dressed up in medieval clothing and the restaurant is decorated lavishly. Large groups can enjoy banquet feasts fit for a king.
Raekoja plats 8, Tallinn Old Town
To learn more about this and similar topics