Satisfying the munchies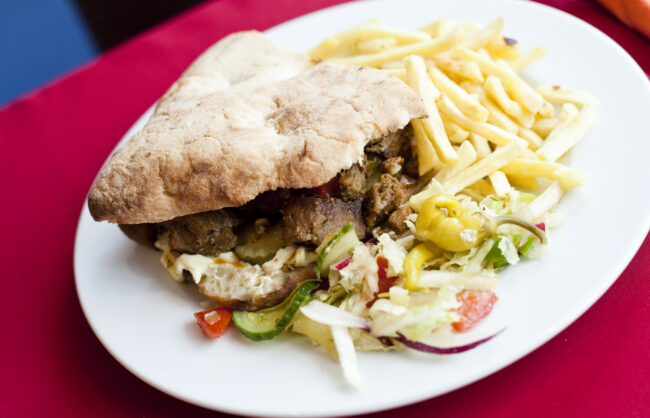 Söögiplats Loca Istanbul Café Tommi Grill Tallinn dinner food restaurant
We've all been there; a quick drink has turned into a full evening of drinking, socialising, and dancing. And after a few hours, it's 3am and our stomach is reminding us that we really can't live on beer alone. Thankfully, Tallinn has a number of establishments where we can cure our hunger and make sure we're ready for the day ahead.
Hessburger and McDonalds are a common destination, offering the well-established burger, fries, and litre of fizzy drink well known around the world. But Tallinn has a number of outlets that should be tried, especially for the more adventurous after drinking eater.
On my first day in Tallinn, Söögiplats, on the corner of Parnu mnt and Estonia pst, was pointed out to me as the place to go after a night out. While this 24-hour kiosk with a wide range of burgers, fries and other fast food staples hasn't tempted me yet, its large queues show that it's popular with locals and tourists alike. Just behind Söögiplats, on Tatari, is Loca, A Latin-themed fast food bar which is well noted for it's pizza selection and hookah water pipes! The prices are pretty reasonable and the premises pretty upmarket for somewhere that stays open all night long at the weekends.
If you're a fan of your Doner Kebab (and who isn't?), then you could do a lot worse than the Istanbul Café. Authentically Turkish, this place serves some brilliant pitas and can prove the perfect end to a late night out. But for those happy to escape the city centre in the name of food, then one place stands out. If you go south to Tatari 64, then you will come to Tommi Grill, an institution in this city. Whether it's burger, kebab, pizza or even just a salad or a soup, Tommi Grill can cook up something that satisfies all your needs, provide you with one last drink, and all at a reasonable price.
Location
Söögiplats (24h) Tatari 1, Tallinn www.soogiplats.ee
Loca (Su-Th 11-11:30, F-Sa 11-07) Tatari 1, Tallinn Map Code B2 www.loca.ee
Istanbul Café (10-24, F-Sa 10-06, Su 12- 24) Estonia pst. 7, Tallinn
Tommi Grill (M-F 10-07, Sa-Su 12-07) Tatari 64, Tallinn
Tommi Grill Metro (Th-Sa 10-02, Su-W 10-24) Viru Väljak 2, Tallinn http://www.tommigrill.ee
TEXT MARK BENN, PHOTOS ANDREI CHERTKOV
To learn more about this and similar topics